Star Ratings
| | |
| --- | --- |
| | Amazing |
| | Well good |
| | Fun |
| | Meh |
| | Rubbish |
| | | |
| --- | --- | --- |
| Film review: Boxing Day | | |
Written by Ivan Radford
Thursday, 20 December 2012 08:06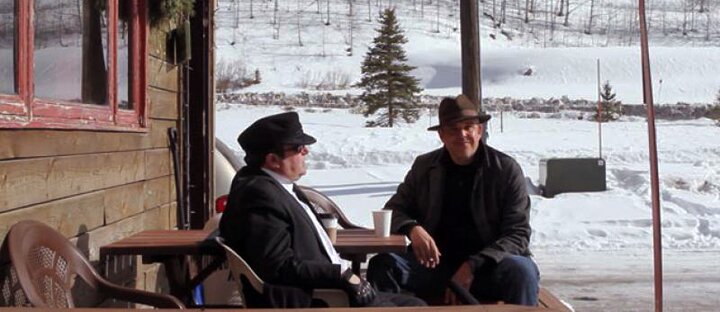 Director: Bernard Rose
Cast: Danny Huston, Matthew Jacobs
Certificate: 15
Trailer
Don't worry. This isn't a sequel to New Year's Eve, Valentine's Day or another one of those Garry Marshall films starring Ashton Kutcher. This is something even more depressing: a modern update of a short story by Leo Tolstoy.
Huston plays Basil, a ruthless American property investor. While his family stay at home eating warm turkey, Basil hires a lonely British chauffeur to drive him around Colorado. He's called Nick (Jacobs). He's divorced.
Together, our odd couple journey through frozen backstreets to hunt down foreclosed properties Basil can buy cheap from the bank and sell on at a quick profit. Merry Christmas, indeed.
It may not sound like your typical seasonal film, but director Bernard Rose knows exactly what he's doing – he's done two of these adaptations before (2000's Ivansxtc and 2008's The Kreutzer Sonata8). Framing his festive tale with the USA's frosty recession gives Tolstoy's Master and Man an immediate relevancy, allowing for debates of the merits of capitalism that never sound forced. In fact, they're frequently laugh-out-loud funny thanks to our leads' frequently bitchy improvisation. "You're a virus," says the man. "If I'm a virus," the master replies, "you're a blood disease."
Huston excels in the role of the greedy speculator. All too aware that his selfishness is helping the economy to recover, he's less a Scrooge and more a 21st Century Daniel Plainview, complete with full-on emotional breakdown. Jacobs, meanwhile, is the perfect foil for the greedy git, a deadbeat loser with a likeable sense of right and wrong.
That these two men carry the whole film between them while barely stepping outside of the car is impressive. That you care for them both by the time the brutally humanistic ending arrives is nothing short of amazing.
Rose's handheld narrative pushes and pulls the pair apart as the taut runtime unfolds, ramping up the claustrophobia as they get lost in the snow. The result is a raw, gripping character piece that miraculously instills a sense of Christmas spirit despite its desolate plot. You'll end up sad, uplifted and determined never to drive home for Christmas again. If only Gary Marshall were stuck in the car with them.
VERDICT
Boxing Day is a Christmas film you don't want to take the whole family to see. Midwinter doesn't come much bleaker – or much better.

Trailer