Star Ratings
| | |
| --- | --- |
| | Amazing |
| | Well good |
| | Fun |
| | Meh |
| | Rubbish |
| | | |
| --- | --- | --- |
| Film Review: The Joy of Six (Short Films) | | |
Written by Ivan Radford
Monday, 19 November 2012 14:09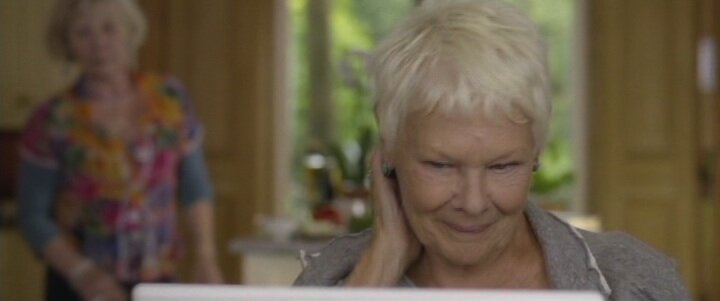 Ever heard of the New British Cinema Quarterly? How about Junkhearts, Skeletons or Treacle Jr.? The only reason you've heard of those is because of NBCQ, a rather fantastic initiative that takes a small British film and tours it around the country every three months.
After a bunch of worthy features, the latest project to travel the UK is The Joy of Six, a compendium of short films. Curated bundles like these can sometimes be a bit hit and miss, but NBCQ are no slouches when it comes to selection. The Joy of Six features talent ranging from Judi Dench and Peter Mullen to Luke Treadaway and Garth Marenghi himself (Matthew Holness). It's a cracking line-up that easily lives up to its title.
Here's what we made of each...
Long Distance Information, 7mins (directed by Douglas Hart)
The commanding presence of Peter Mullan sits in a chair as his wife makes the Christmas dinner, reading the paper and swearing about the Queen. Then, the phone rings. It's his son. What follows is an awkward conversation full of pauses and fake festive cheer. Douglas Hart quietly cuts back and forth between our main leads, letting our eyes linger on Mullan's yellow, smoke-stained teeth. He cuts a complete contrast to the nervous, fidgety boy on the other end of the line. Their estrangement is so realistically drawn you could almost believe they weren't related.
Man In Fear 10mins (directed by Will Jewell)
If you saw the National Theatre's production of The Curious Incident of the Dog in the Nighttime, you'll be familiar with Luke Treadaway's ability to create a neurotic energy around him just by stuttering. Director Will Jewell takes that and fills the screen with it in this twisted thriller about a man convinced that men are trying to kill him. And not just any men: artists. Playing out like a reverse-Final Destination, editor David Wigram's jumpy close-ups keep the pace going quickly enough for you to buy the concept. Jewell's frame is stuffed full of more nods to contemporary art than the Tate Modern gift shop, which almost everyone watching (including myself) will miss, but such a meticulous eye and bizarre idea make this a tempting candidate for a feature-length flick.
A Gun for George 17mins (directed by Matthew Holness)
"In today's world, justice comes too slow. Unless it's decapitation." That's Terry Finch, hardboiled crime writer and scourge of local librarians. He churns out a series of novels about The Reprisalizer (tagline: "Judge, Jury, Reprisalizer"), a sideburned vigilante who wages war against the seedy underworld of Kent. But The Reprisalizer's thirst for bloody vengeance, especially when it involves other men's balls, is no longer welcome in modern society. Cue Finch going around town threatening and shouting until his books get republished. "I'll come back and organize your whole collection by genre!" he yells at one poor library employee.
With its loving recreation of trashy 70s thrillers and unrelenting stupidity, it feels like a non-supernatural follow-up of Garth Marenghi's Darkplace. No surprise, then, that this is the latest creation of the brilliant Matthew Holness. Given a fully-fledged plot to drive it forwards, a Terry Finch film could be a wonderful cult classic. Word is that he and Warp Films are already working on a feature for next year: see this first so you can tell them to get a move on with it.
Scrubber 20mins (directed by Romola Garai)
The Hour, Atonement, Glorious 39. There's no denying Romola Garai's skill in front of the camera. Turns out she's just as good behind it: Scrubber, Romola Garai's directoral debut, is one of the more interesting films here. It follows Jenny as she escapes her life as a wife and mother, running from her suburban home into the nearby woods, where she does naughty things with strange men. Garai's camera constantly lurks around the corner from her characters, slowly creeping up on Amanda Hale's engrossing, conflicted female. Caught between her desires and responsibilities, Kate Ried's stunning cinematography presents the remote landscape as Jenny's literal and emotional limbo. This is a grounded tale of one woman's confusion, right down to the leaves that get stuck in her hair the morning afterwards.
The Ellington Kid 5mins (directed by Dan Sully)
An amusing little shocker, Dan Sully's urban anecdote plays out as part horror story and part gritty gangland showdown. Armed with knives and a whole lot of anger, a bunch of teens wind up in a kebab shop in the middle of the night. A quick Crocodile Dundee moment later and this sharply shot and chillingly cut tale will leave you eating chip for the rest of your life.
Friend Request Pending 11mins (directed by Chris Foggin)
Old people and computers can either be comedy gold or sitcom shite. Luckily, Chris Foggin's story of social networking benefits from two things: one, a genuinely cute script, and two, Dame Judi Dench. Saying things like "LOL", "OMG" and "poking", Friend Request Pending is like watching a very surreal deleted scene from Skyfall (M would NEVER say "LOL"). But The Dench pokes with the best of them, selling her character's teen-like excitement just enough to counter the ending, which in other hands could have descended into a cheesy British Telecom advert.
These days, cinema audiences don't get a chance to see many shorts outside of festivals. Take the opportunity while you can.
The Joy of Six is showing in the following cinemas around the country:
November 20, 2012
Cornerhouse, Manchester

November 22, 2012
York Picturehouse
Hackney Picturehouse, London 

November 26, 2012
Ritzy Picturehouse, London

November 27, 2012
Cambridge Arts Picturehouse

November 28, 2012
Ultimate Picture Palace, Oxford

December 3, 2012
Guildhall Cinema, Gloucester
Chapter, Cardiff

December 5, 2012
Tyneside Cinema, Newcastle

December 6, 2012
Greenwich Picturehouse, London

December 12, 2012
Showroom Cinema, Sheffield

December 13, 2012
Edinburgh Filmhouse