Star Ratings
| | |
| --- | --- |
| | Amazing |
| | Well good |
| | Fun |
| | Meh |
| | Rubbish |
| | | |
| --- | --- | --- |
| Film review: Breaking Dawn Part 2 (The Twilight Saga) | | |
Written by Ivan Radford
Sunday, 18 November 2012 08:39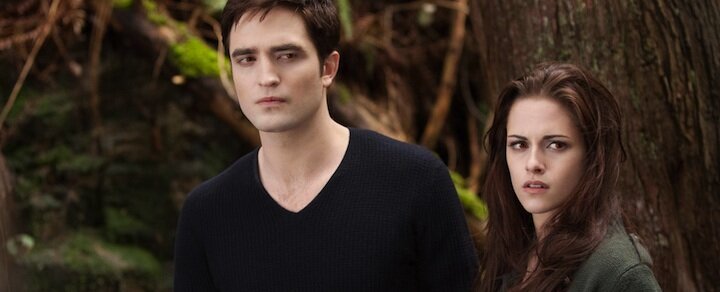 Director: Bill Condon
Cast: Taylor Lautner, Kristen Stewart, Robert Pattinson, Billy Burke, Michael Sheen
Certificate: 12A
Four years and five films after Twilight introduced us to the heady world of hormones and vampires, the saga ends with Breaking Dawn: Part 2, a blisteringly bonkers punch-up between all kinds of supernatural beasties.  
Two-thirds in, the monsters line up on a snowy field, ready to rip each other's faces off. It's a climax that sees Stephenie Meyer's romance explode into a kind of undead Avengers. With their long coats, pretty hair, short skirts and superpowers, it's like watching the best H&M advert ever. And boy, is it fun.  
Bill Condon, director of Dreamgirls, was never one to shy away from the madness of the final Twilight book. Embracing the full body horror of vampiric pregnancy in Part 1, here he runs around with the demented glee of newly-turned vamp Bella (Stewart) and her and Edward (Pattinson)'s creepy offspring, Renesmee. And she really is creepy. Half-human, half-vampire, she looks like someone photoshopped a picture of a face onto a baby's body - no wonder the Volturi (the vampire police led by a camp Michael Sheen) want to destroy it and the rest of the Cullen clan.
And so the stage is set for the epic battle. It may not sound like much of a plot to last two hours, but it barrels along without the heavy-handed emotions that held back the bloated sequels - and attracted so much snide hatred. 
As the only human left in the freak show, Billy Burke's dad, Charlie, gets to do some serious mourning, but even that is short-lived, quickly solved by Jacob (Lautner) undressing in front of him. "You don't live in the world you think..." he purrs, slipping off his shoes.
Led the convincing lead couple, the cast do well to keep a straight face given some of the dreadful leaps of logic on display. The Cullens build the newlyweds a cottage as a gift - only to announce plans to move away the next day, while Jacob has imprinted ("a moronic wolf thing") on Bella's daughter. He calls her Nessie. But with Meyer's love triangle finally balanced, we're free to just enjoy the silliness.
"You nicknamed my daughter after the Loch Ness monster?" yells the red-eyed Stewart, who has never been more natural as the pale-faced Bella. She even avoids blinking for the entire movie.
"I was born to be a vampire," she says at one point. And in many ways, Breaking Dawn Part 2 marks the franchise accepting what it is - screenwriter Melissa Rosenberg even grows a pair of fangs and bites a chunk out of Meyer's book to give us an ending that's far superior to the original text; an orgy of solid special effects, severed heads and, of course, cool clothes.
So what have we learned from this completed saga? If the first Twilight was an excellent, spooky fable about abstinence, a pubescent Let the Right One In with added sparkle, Bill Condon's wonderfully daft finale has left that idea way behind. But in a year of Marvel-lous box office records, Breaking Dawn Part 2's less rewarding message mostly seems to be that teenage girls can be superheroes too. But hey, when that message involves a CGI wolf decapitating Dakota Fanning, it's hard to quibble.