Star Ratings
| | |
| --- | --- |
| | Amazing |
| | Well good |
| | Fun |
| | Meh |
| | Rubbish |
| | | |
| --- | --- | --- |
| Film review: The Pool | | |
Written by Ivan Radford
Saturday, 17 November 2012 13:17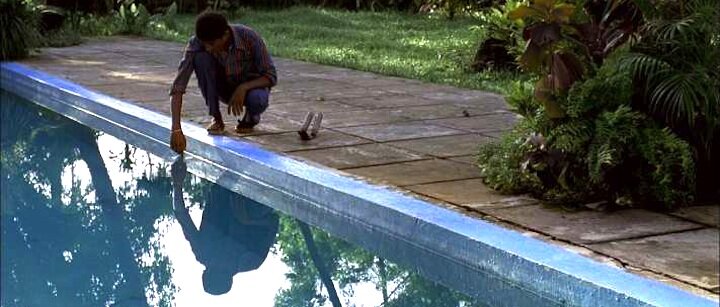 Director: Chris Smith
Cast: Venkatesh Chavan, Ayesha Mohan, Nana Patekar
Showtimes at the ICA
The Pool trailer
What do you do after releasing five successful American documentaries? Go to Goa and make one there. It's a crazy move by director Chris Smith, who opts to shoot in a foreign country with actors he can't understand and get them to speak dialogue that isn't even in their first language. But somewhere along the line this improbable set of daft decisions pays off, producing a delightful dip into another culture.
Venkatesh (Chavan) is a young boy born into poverty. Holding down a job as a hotel cleaner, he sells plastic bags in the market to make enough money to send home to his nearby home village. But one day something catches his eye: The Pool. A pristine slab of blue water, locked away behind a private wall, its elusive wealth enchants him. Soon enough, he's spending every day there, climbing a tree and watching its owners like a creepy stalker monkey.
Eventually, he worms his way into their garden, getting to know formidable father Nana (Patekar) and falling for his daughter Ayesha (Mohan). But when they're not looking, he returns to the real object of his desire, dipping his hand in and watching the ripples spread.
Chris Smith's quiet handheld camera captures these moments with an almost-poetic beauty, full of bright colour and laidback pacing. That simplicity runs through the film; even speaking in Hindi, Venkatesh Chavan conveys everything you need to know with his tiny gestures, helped by Smith's loose script, which allows for improvisation. All the while, Nana Patekar's rich benefactor reminds us of the colossal class divide that makes the water so appealing.
"What do you do all day?" asks Venkatesh's plucky friend. "He tells me corny philosophies," he replies, "but from him they don't so bad."
There are dark turns along the way, as we learn why no one ever goes for a swim, but The Pool's realism has a surprising warmth to it. In other hands, Smith's leap abroad might have been patronizing, a Best Exotic Marigold Hotel for teens, but his adaptation of Randy Russell's American story gently highlights a universal truth while tastefully embracing its new location. As we dive into a world of have and have-nots, The Pool could have drowned these fragile characters, but the hard-hitting undercurrent only ends up carrying you with them.
The Pool was made all the way back in 2007. It's taken five years to reach UK shores. It's never too late go for a swim.

The Pool trailer