Star Ratings
| | |
| --- | --- |
| | Amazing |
| | Well good |
| | Fun |
| | Meh |
| | Rubbish |
| | | |
| --- | --- | --- |
| Film review: Hotel Transylvania | | |
Written by Ivan Radford
Thursday, 11 October 2012 06:49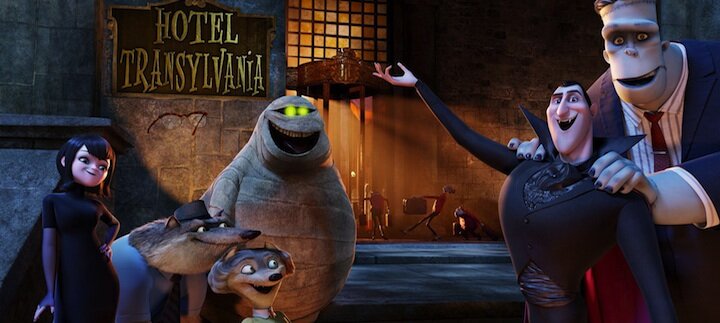 Director: Genndy Tartakovsky
Cast: Adam Sandler, Andy Samberg, Selena Gomez, Kevin James
Certificate: U
On a dark desert highway,
cool wind in Jonathan's (Samberg) hair
The smell of a dirty human,
rising up through the air
Up ahead in the distance,
he sees a shimmering light
Ignores the bats and wanders in,
he plans to stop for the night

Dracula stands in the doorway;
King of this monster motel.
(Played by Adam Sandler,
this could be Heaven or it could be Hell.)
But he don't demand attention,
lets the whole cast have their say.
There's lots of creatures to feature,
which explains the film's name...
Welcome to the Hotel Transylvania,
home to starry names
such as Kevin James.
But credit is due to the Hotel Transylvania:
there are laughs sincere,
even with Sandler here.

Dracula's daughter's called Mavis (Gomez)
She's going round the bend
Not allowed out the castle,
her 18th birthday's ruined.
But now that Frank's in the courtyard,
sweet romance is set.
Vamp-girl dances with the human –
a dance that she won't forget.

That Jon's alive is a secret
that Dracula tries to hide,
while debating perceptions of
monsters since 1169.
Is this a farce or a romance?
Macabre, mopey or gay?
Skipping from silly to serious,
you hear the writers say…

Welcome to the Hotel Transylvania,
such a colourful place
but we screwed up the pace.
You're livin' it up at the Hotel Transylvania
for the first hour or so
then it's oh so slow.
Mirrors on the ceiling,
The pink champagne on ice
Genndy Tartakovsky's
animation's so nice.
The Dexter's Lab director
throws so much on the screen
that you forget the slack scripting
so much invention you've seen.
But the last thing I remember,
I was running for the door
to escape some Twilight jokes
and a terrible song.
"But relax," I decided, "think how crap this could've been!
The film's worth checking out, if you like – but you'll have to pay for 3D."