Star Ratings
| | |
| --- | --- |
| | Amazing |
| | Well good |
| | Fun |
| | Meh |
| | Rubbish |
| | | |
| --- | --- | --- |
| The Damned United | | |
Written by Selina Pearson
Friday, 27 March 2009 12:00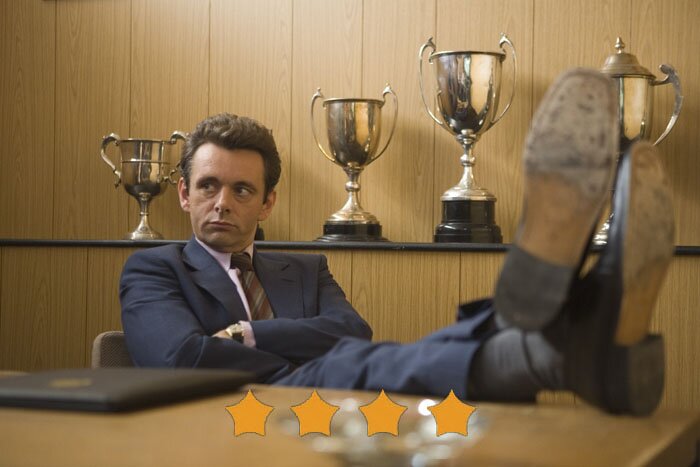 Director: Tom Hooper
Cast: Michael Sheen, Timothy Spall, Colm Meaney
Certificate: 15
Charismatic, arrogant, outspoken, Brian Clough is arguably one of England's greatest football managers. His achievements with Derby and then Nottingham Forest remain, in many respects, unsurpassed. The Damned United is a partially fictionalised account of Brian Clough's next move: a catastrophic 44 day stint at Leeds United.

In 1974, less than 10 years after winning the World Cup, Alf Ramsey's England have failed to qualify. Heads must roll. Ramsey is sacked by the FA. Don Revie (Meaney), Leeds manager, has just nurtured and shaped his team into winning two First Division titles (that's the Premiership in today's money). He is the natural choice to fill Sir Alf's boots. After being left in the wilderness by Derby County, Brian Clough is desperate for a new challenge. He wants to make his mark in the biggest way he can. So, instead of following his best mate and long-time assistant Peter Taylor (Spall) to Brighton and Hove Albion two divisions below, he accepts an offer from Leeds to become their boss.

Unfortunately, Clough comes to Leeds with an agenda - no, a vendetta. Against Revie and against "dirty effing Leeds", a team he has been very vocal in criticising. He doesn't fit with the team and the team don't fit with him; he wants them to play clean flowing football, "the beautiful game", whereas Revie's Leeds play a cynical game tending towards violent tackles and mobbing referees - an approach exemplified by Bremmner and Keegan's punch-up at the Charity Shield.

At the same time as Clough's ill-judged move, the film shows Clough and Taylor's fairy-tale rise at Derby County, from the foot of Division Two to the top of Division One 3 years later. The films bravely condenses the backstory, leaving out Clough's playing career and time at Hartlepool to focus on his time at Derby and his grudge against Don. In David Peace's novel (of the same name), the Derby days are told through Clough's inner monologue, which Peter Morgan's screenplay uses to construct its narrative.

It should be pointed out that this is not a football film; it's a film about obsession, rivalry, love, and then football. There is little actual on-pitch action, the film focussing instead on the people involved, using archive footage to good effect. Clough's motives in taking the Leeds job remain unclear, though it is easy to believe that he wanted to prove he was a better man than Revie; the two of them grew up in the shadow of Ayresome Park, both were successful sons of Middlesbrough and, in the film at least, the young Clough appeared to idolise Don.

Whatever his motives, Sheen's performance is extraordinary. Vibrant, volatile and empathetic, you can't help liking Ol' big Ead - this is possibly the best big-screen turn of Michael's career. Colm Meaney looks eerily like Don Revie, and Spall is Clough's kindly and patient partner, Taylor. They acquit themselves well but Sheen steals the show.

VERDICT

Morgan and Michael bring us another character-driven masterpiece. It's about ambition, friendship and the days when £170,000 was the price of an expensive football player. Damned good.