Star Ratings
| | |
| --- | --- |
| | Amazing |
| | Well good |
| | Fun |
| | Meh |
| | Rubbish |
| | | |
| --- | --- | --- |
| Film review: Private Peaceful | | |
Written by Ivan Radford
Tuesday, 09 October 2012 10:12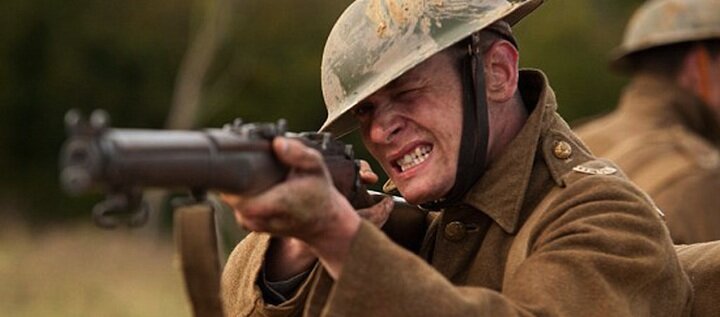 Director: Pat O'Connor
Cast: George MacKay, Jack O'Connell
Certificate: 12A
"Don't you know there's a war going on?" It's a well-known fact that in conflicts throughout human history, people said that to each other all the time, just in case they forgot that there was, indeed, a war going on. Either that, or movies have been lying to us for years.
Private Peaceful continues this fine trend of unsubtle contextualization, following young Tommo Peaceful (MacKay) and his brother, Charlie (O'Connell), as they sign up for military service. Based on the kids novel by Michael Morpurgo, comparisons are easy to draw with Morpurgo's other wartime tale, which Spielberg brought the screen in 2011. But this is less War Horse and more Goodnight Mister Tom.
That's not necessarily a bad thing. After the syrupy glaze of War Horse, director Pat O'Connor does well to keep the sheen off the British countryside; back home is as grim as the front, with Maxine Peak's perfectly pitched mother maintaining Morpurgo's bleak emotional tone. The film even manages to hold back the book's mystery of a firing squad's target until the final reel. It's a shame, then, with such decent production design (especially in No Man's Land), that Private Peaceful tries to make up for its TV movie budget by overplaying everything else.
One scene in the village square sees an old woman castigate Tommo for not enlisting. "COWARD!" she shrieks, pointing at the camera as though the film is in 3D. She's less subtle than the hag in The Princess Bride.
It seems sad to accuse Simon Beale's script of being heavy-handed following his successful, pared-down stage adaptation. Maybe it's just the performances themselves.
Fresh from his turn in Hunky Dory, the wide-eyed MacKay is excellent as the young lead, looking up to his brave older sibling. As local love interest Molly, Alexandra Reach adds an equally strong pang of affection that drives the brothers apart, but other members of the cast ham it up like pork hasn't been rationed. Led by Richard Griffiths' portly landowner, they stomp loudly all over the muddy terrain, turning what could have been a low-key tragedy into a string of increasingly dubious clichés. Don't they know there's a war going on?