Star Ratings
| | |
| --- | --- |
| | Amazing |
| | Well good |
| | Fun |
| | Meh |
| | Rubbish |
| | | |
| --- | --- | --- |
| Film review: To Rome with Love | | |
Written by Ivan Radford
Wednesday, 12 September 2012 06:58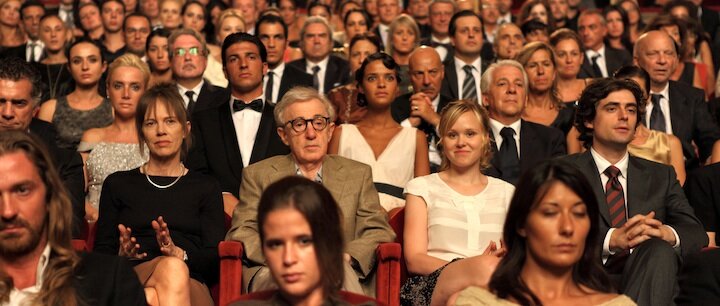 Director: Woody Allen
Cast: Jesse Eisenberg, Roberto Benigni, Alec Baldwin, Ellen Page
Certificate: 12A
"Life can be very cruel and unfulfilling." That's the unmistakeable sound of a Woody Allen film landing at a European airport. And with To Rome with Love comes all the usual baggage: existential crises, sex, foreign stereotypes, pretty pictures of cities and, of course, more sex.
The good news? After Midnight in Paris' time-travelling shenanigans, To Rome with Love really does seem like a flight back to Allen's early days. The bad news? After Midnight in Paris' time-travelling shenanigans, To Rome with Love really does seem like a flight back to Allen's early days.
Gone are single-stranded plots or careful structuring. Instead, we have a tableau of stories - a mish-mash of ideas that feels like a bunch of a holiday photos strung together.
In one frame, we see architecture student Jack (Eisenberg) fall for his girlfriend's flirtatious best friend (a sumptuous Ellen Page). In another, blushing bride Milly is separated from her husband on the way to meet his parents, leaving him to hire a prostitute (heLLO to Penelope Cruz) to pretend to be his wife. And then there's Leopoldo Pisanello (Benigni), a man who becomes a celebrity overnight for no reason, suddenly surrounded by journalists asking what he had for breakfast.
Do these plotlines have anything to do with each other? No. Are they dated? Yes. But in a way, that's the charm. Allen even appears himself as a failed music director to boost the retro mood, any fluffed lines ably picked up by his long-suffering partner and daughter (Scott Pilgrim's Alison Pill). During his stay in Rome, Allen discovers his daughter's father-in-law, Michelangelo, is a great singer – as long as he's in the shower. And so we are treated to a string of grand concerts, led by a performer scrubbing his back with a loafer.
It's these flashes of daft humour that complete the old-school Allen atmosphere. Just as in the director's last offering, he shows a willingness to return to his surreal roots, but he throws it together with little flair or inspiration. The opening five minutes with a "genuine" Italian are so painfully forced our narrator might as well be Super Mario.
Fortunately, the rest of the cast saves the 112 minutes from becoming too baggy. Eisenberg's deadpan facial expressions are hilarious, even if you can't believe he would ever be unhappy with Greta Gerwig, while Roberto Benigni's energy sells the clunkier parts of his satire.
But it's Alec Baldwin that steals the show. A middle-aged man walking the streets of his youth, he winds up in the guardian angel role to Eisenberg's insecure geek. "Don't do it," he warns, as Page flicks her hair and namedrops Italian architects, before breaking the fourth wall. "Monica…" he says to the camera, clearly having the time of his life. "Even her name sounds hot."
For these very brief moments, To Rome with Love is bang-on, exhibiting an unabashed love of silliness just for the heck of it. For the rest of the runtime, things fall to pieces. A flight back to Allen's unstructured era of hit-and-miss comedy, To Rome with Love is like going on vacation with a favourite elderly relative, only to be shown a bunch of random Polaroids taken 30 years ago. Faded? Yes. But still colourful in places.

Tags:
alec baldwin
alison pill
greta gerwig
jesse eisenberg
penelope cruz
roberto benigni
scott pilgrim
to rome with love
woody allen