Star Ratings
| | |
| --- | --- |
| | Amazing |
| | Well good |
| | Fun |
| | Meh |
| | Rubbish |
| | | |
| --- | --- | --- |
| Film review: St George's Day | | |
Written by Ivan Radford
Friday, 07 September 2012 10:46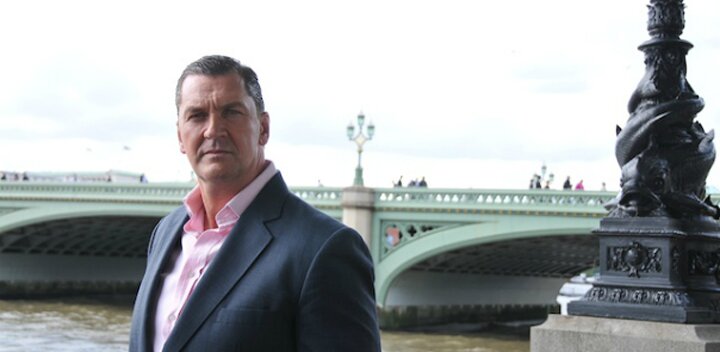 Director: Frank Harper
Cast: Charles Dance, Frank Harper, Craig Fairbrass, Sean Pertwee, Luke Treadaway, Keeley Hazell, Nick Moran, Neil Maskell
Certificate: 15
"They say that Mickey McManon is a killer. They may be right, but you've got to put it into context..."
That's Frank Harper speaking. Frank Harper the director. Frank Harper the writer. Frank Harper the star of St. George's Day. And as writer, director and star, whatever he says is obviously important enough to be heard constantly. Yes, every few minutes throughout this overlong, interminably dull gangster flick, up pops the filmmaking triumvirate of Frank Harper to deliver another gruff speech. After 20 minutes, it wears you down. After 2 hours, you'll be cramming popcorn in your ears.
They say that shoving popcorn in your ears is the mark of a desperate man. They may be right, but you've got to put it into context.
Against all the odds, Mickey's just as annoying when he's not speaking in voiceover. It's not his acting - Harper's as blokey as a London gangster needs to be and carries off the physical threat with ease - it's his writing. "I wanna fuck you so much..." he grunts at Keeley Hazell's trophy girlfriend, The Peckham Princess. "How much?" she asks, happily ignoring the fact that her character doesn't have a real name. "Right now much," comes the reply. Dialogue doesn't clunk; it bongs into existence like a heavy metal cover of Tubular Bells. With Brian Blessed doing a voiceover on top.
The same is true of the rest of the cast. As Mickey's trying-to-go-straight cousin, Ray, Craig Fairbrass is stuck firmly in Eastenders mode, but at least he matches the quality of the script. "We'll do the job but only if the price is right," he says after the siblings arrange to meet by the River Thames. You can hear the reply coming from Putney Bridge. And sure enough, Harper doesn't disappoint: "This ain't a fucking game show," he snarls.
The audience titters. Or at least, you think they do - you can't tell because of all that popcorn perforating your eardrums.
Credit where its due, St. George's Day has some ok moments. The nighttime shots of London look alright (Harper smartly keeps costs down by using external locations), while his globe-trotting story is clearly trying to aim much bigger than the usual Guy Ritchie strand of cockney crime caper. What we end up with is a low-budget tale that dares to take in London's Docklands and Berlin's Olympic Stadium in a single stride. But the bigger its strides, the more steps it misses: undefined friends move in and out of the background, plot twists are predictable and the editing is all over the place. At one point we cut halfway through a conversation by an Amsterdam canal to the exact same discussion in a coffee shop without skipping a beat - a logical progression, if you're a Time Lord.
Fortunately, folks like Luke Treadaway and Neil Maskell are there to flesh out the ensemble, each getting their own wobbly-lipped interrogation scene. Dexter Fletcher also appears as a pikey - a step back from Wild Bill, but at least his hair looks nice. Charles Dance, meanwhile, keeps his chin up as Britain's withering Godfather, Trenchard. He smiles menacingly every few minutes, whenever he remembers his pay check.
But nothing can save these few decent cast members from St George's Day's script. Back in that Amsterdam coffee shop, Harper starts on another long-winded lecture.
"Bollocks is the greatest word in the English language," he says proudly. "Sometimes, it means bollocks, I don't believe it! Sometimes, it's the absolute bollocks, the best thing ever. It could be bollocks, you're annoying me." He pauses. "But sometimes, bollocks just means bollocks."
Three out of four ain't bad.
VERDICT
Some people say St George's Day is a painful, awkward, dire film. But you've got to put it into context. It's worse.
Tags:
british
charles dance
craig fairbrass
frank harper
gangster
guy ritchie
indie
keeley hazell
low budget
luke treadaway
neil maskell
nick moran