Star Ratings
| | |
| --- | --- |
| | Amazing |
| | Well good |
| | Fun |
| | Meh |
| | Rubbish |
| | | |
| --- | --- | --- |
| FrightFest Review: Stitches | | |
Written by Ivan Radford
Saturday, 25 August 2012 01:00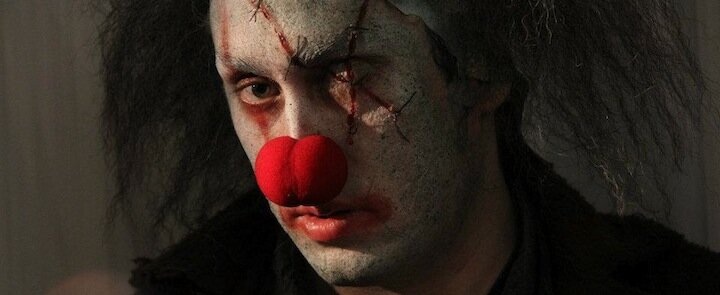 Director: Conor McMahon
Cast: Ross Noble, Tommy Knight, Gemma-Leagh Devereux
Certificate: TBC
When I were a lad, I saw an episode of Are You Afraid of the Dark? about an evil clown. It completely freaked me out. But clowns are everywhere these days, from Crispin Glover's weird song to Psychoville's one-handed Mr Jelly. So it's no surprise to see someone have a stab at a modern clowny horror comedy. What might surprise you is their choice to play the sinister Stitches: Ross Noble.
But the Newcastle comedian gets right into it. He growls and grimaces from under his make-up as he stalks after do-gooder Tom (Knight) and his friends. Why? Because they're the ones who killed him. Flash back 10 odd years and Stitches stops mid-shag to go and entertain at wee Tom's birthday party. One unfortunately placed knife later and he's throwing custard pies in the big top in the sky. It's a gleefully warped introduction to Conor McMahon's silly slasher – a scene so hilariously black that it could have come straight out of The League of Gentlemen. It's also the best part of the film.
The rest of the runtime sees Stitches brought back to life by a black magic clown sect. Performing some voo doo on his face-painted egg, they resurrect him so he can finish the show he started: Tom's birthday.
Sex, drink, crass jokes and bland teens abound as Stitches creeps around Tom's 16th. Eventually, he starts wreaking revenge. This is where McMahon really makes his mark, killing one kid with an umbrella, another with balloon modelling, and so on. Alongside an inspired use of the clown's red nose, they're twisted, sick murders, brilliant pieces of trashy FX that make you look twice.
But while Stitches spills guts nicely, it doesn't always skewer the funny bone. "Taken from behind!" Noble cries at one point, dropping terrible deadpan puns after each death. It's a bit hit and miss.
If any of the victims were likeable – or even memorable – that wouldn't be a problem. But with a horde of forgettable teenagers to bump off one by one, Stitches risks losing its momentum and laughs as it goes on. The runtime is wisely kept short, but even our main couple, the nervous Tommy Knight and token-love-interest Gemma-Leagh Devereux, are unable to distract from the script's rushed, uneven climax.
And so it falls to Noble's effort to keep it going. Using his street entertaining skills, he juggles, twiddles umbrellas and works the props with impressive flair. He's clearly having the time of his life. It's just a shame we can't always say the same. Still, bonus points for removing a man's brain with an ice cream scoop. Not even Are You Afraid of the Dark? managed that.
Tags:
conor mcmahon
frightfest
ross noble
stitches