Star Ratings
| | |
| --- | --- |
| | Amazing |
| | Well good |
| | Fun |
| | Meh |
| | Rubbish |
| | | |
| --- | --- | --- |
| Paul Blart: Mall Cop | | |
Written by Ivan Radford
Wednesday, 18 March 2009 13:00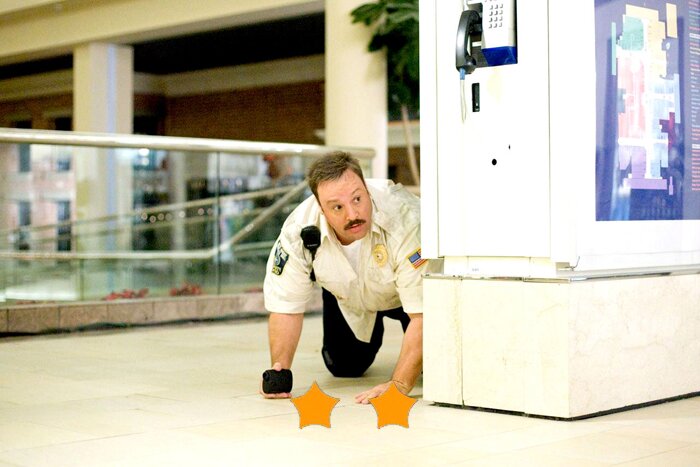 Director: Steve Carr
Cast: Kevin James, Jayma Mays
Certificate: PG
Fresh from a string of supporting turns and TV's King of the Queens, Kevin James takes centre screen as Parl Blart, a security officer for a shopping mall. He's fat, hypoglycaemic and, we're apparently meant to think, is therefore funny. Mocked by co-workers and customers alike, Blart (named after a charming bodily function, FYI) is a loser. And so he ambles through life, downing his sherbet, upping his blood sugar, and drooling over shopkeeper Amy (Mays).

But when bad guys take over the shopping centre on Black Friday (the worst shopping day of the retail year), Blart gets to go gung-ho, proving that he's got what it takes to protect and serve. And right there is the film's best (and worst) point: he does have what it takes. He's actually incredibly athletic and fit - it's the hypoglycaemia that's holding him back.

From the off, this Adam Sandler-produced comedy is well aware of its lead's talents: Kevin James is physically agile, capable of turning pratfalls into pirouettes with graceful slapsticking. But for all its efforts to contrive a showcase for his skills, Blart's screenplay simply wastes them. There are a few laughs in there - in the hands of another actor, they wouldn't be - but even Segway sight gags get old after 5 minutes. A serviceable cast go through the motions, but none of them consistently entertain, mainly because the words they've been given just don't cut the mustard; not even Blart himself would smear peanut butter on this bland bit of celluloid.

VERDICT

It's Die Hard in a mall! But you know what? Die Hard's funnier.