Star Ratings
| | |
| --- | --- |
| | Amazing |
| | Well good |
| | Fun |
| | Meh |
| | Rubbish |
| | | |
| --- | --- | --- |
| Film review: Salute | | |
Written by Ivan Radford
Thursday, 12 July 2012 17:36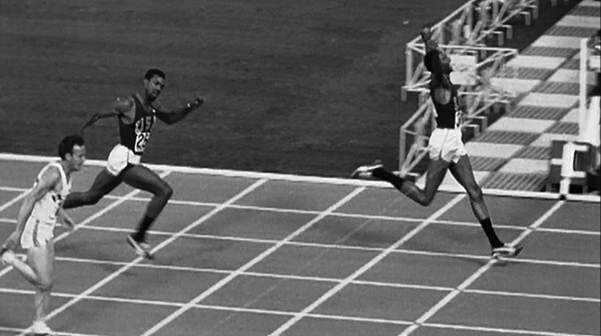 Director: Matt Norman
Cast: Tommie Smith, John Carlos, Peter Norman, Bob Beamon, Christopher Kirby, Ralph Boston
Certificate: PG
Mexico. 1968. The summer Olympics. Two men changed the world with a single gesture: Tommie Smith and John Carlos raised their fists in a black power salute after winning medals in the 200m sprint final. But there was another man on that podium with them: an Australian guy called Peter Norman.
Salute, a film about the build-up to (and fallout from) that iconic moment, explains who that man was.
To director Matt Norman, Peter was first and foremost his uncle – a connection that makes this documentary as moving as it is muddled.
Salute picks up Peter's story immediately before the famous 200m race, placing everything into context. The dominance of American athletes on the track. Australia's lack of altitude training to prepare for Mexico's lofty stadium. The racism entrenched in societies around the world.
This abuse and inequality had stirred up a simmering pot of anger, sparking protests everywhere. African American athletes were planning to boycott the Olympic games, while Mexico massacred a host of student protestors just days before the opening ceremony: who knew the social unrest was so severe and so violent? No one, if the press could help it.
That's why Tommie Smith and John Carlos' action had such an impact. Did it bring politics into an apolitical sporting event? Yes, something that divides the movie's interviewees. But Peter wasn't prepared for the whirlwind that followed, a backlash that saw him banned from the sport for life – despite holding the record for the 200m, he wasn't even invited to the 2000 Sydney Olympic Games.
Here's where Salute slips up. Piecing together vox pops with Olympic staff and footage of a reunion between the three runners, it follows the unlikely story of the podium's elusive third man, all the way to his death in 2006. But in trying to redress the historical balance, the Australian flick loses sight of what made it so captivating in its opening half: eye-opening coverage of worldwide unrest is replaced by clips of Smith and Carlos speaking at Peter's funeral.
This shift from international to personal is admirable – and affecting – but the film runs out of breath halfway round the track. Christopher Kirby's voiceover does its best to hold the story together, but any sense of structure or chronology limps off nursing a twisting ankle. The impression that Matt only has a few interviews to play with doesn't help; with no one from recent Olympics available to comment and little mention of what happened to the rest of the trio, the final third feels like a loop of the same three speeches.
Still, the footage of Peter himself is humbling stuff. For all its flaws as a documentary, Salute is worth watching just for his account of the whole thing. His frank, unassuming attitude gives a human depth to that famous, two-dimensional image. Hell, if you had an uncle like Matt's, you might well make exactly the same film.
VERDICT
Salute is a fascinating look at how one photo shaped history. You just wish it didn't shy away from the bigger picture.

Tags:
australia
bob beamon
christopher kirby
john carlos
matt norman
olympics
peter norman
ralph boston
salute
tommie smith