Star Ratings
| | |
| --- | --- |
| | Amazing |
| | Well good |
| | Fun |
| | Meh |
| | Rubbish |
| | | |
| --- | --- | --- |
| Bronson | | |
Written by Ivan Radford
Friday, 13 March 2009 11:25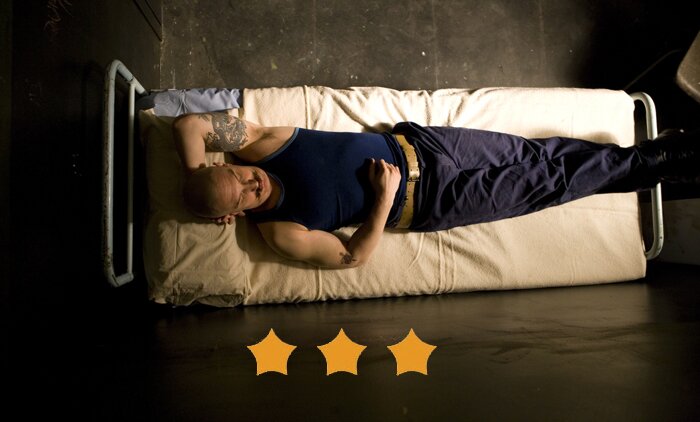 Director: Nicolas Winding Refn
Cast: Tom Hardy
Certificate: 18
In 1974, the ambitiously violent Michael Peterson (Hardy) robbed a post office. Then he went to prison. Behind bars, he got even worse - craving a name for himself, he filled his life with years of fame-seeking brutality. Finally, with his gay Luton boxing manager (the hilarious Matt King), he found a suitable pseudonym: Charles Bronson. 

And so we see Charles beat up prisoners, strangle paedophiles and paint himself in the buff. All the while, he narrates to the camera, glaring out at the audience with a loutish grin, unashamed of his deeds. And, just in case you doubt his insanity, Brock Norman Brock's screenplay doubles up events with a vaudeville act, full of deadpan juxtaposition and clown make-up. It takes Peterson's superficial identity - a performance in itself - and runs with it, allowing Tom Hardy to shine, two parts comedy to one part psycho.

Not your average biopic, then. In fact, this is as arty as they get: a string of chronologically correct events hewn together with flair. It's just a shame that it's taken from someone else. Clearly channeling Kubrick's Clockwork Orange, Refn goes for long tracking shots and gloriously disturbing bursts of bloody carnage. He even chucks in some Wagner (along with Pet Shop Boys). But Kubrick's masterpiece had depth and substance, a graceful narrative arc. Bronson just ends up a bit bitty.

VERDICT

Provocative but ultimately shallow, Bronson fails to rise above its surface; nonetheless, it's an arresting experience.