Star Ratings
| | |
| --- | --- |
| | Amazing |
| | Well good |
| | Fun |
| | Meh |
| | Rubbish |
| | | |
| --- | --- | --- |
| Hush | | |
Written by Ivan Radford
Friday, 13 March 2009 11:22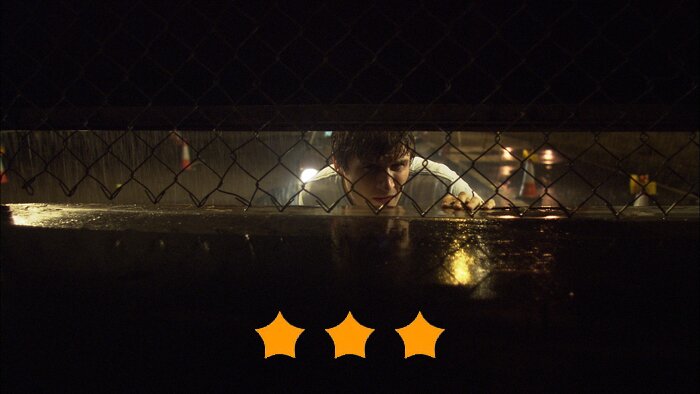 Director: Mark Tonderai
Cast: William Ash, Christine Bottomley
Certificate: 15
A former DJ and debut director, who'd have thought that Mark Tonderai's first feature would be both gripping and tense? More to the point, who expected a tale about a guy who puts up car posters in toilets? Nakes (Ash) and Beth (Bottomley) are driving up the M1, having a bit of a barney. Then, when a truck in front of them briefly opens its doors, they catch a glimpse inside: a woman, screaming. 

Another row later, and the two go their separate ways. Poor poster boy. But when Beth goes missing, right after the lorry leaves the same car park, Nakes fears the worst. He hot-wheels it after the driver, determined to rescue his almost-ex-girlfriend.

It all sounds so trashy and trite. An evil truck? The M1? Yeah, right. But somehow, Tonderai's thriller, with its short focus shots and nippy screenplay, just doesn't let up. The opening hits hard, and then keeps on pummelling, right up to the traditional cat-and-mouse climax. There are holes (and twists) where there shouldn't be, but the suspense stays high - owing in part, perhaps, to the untapped potential for service stations as the creepiest places on earth. The two leads are strong, too, facing their peril with believable fear. With its regional accents and dull locations, this is a decent bit of British cinema; when it comes to trashy, grizzly horrors, we've got the industry covered.

VERDICT

Nothing too original, but Hush is an undeniably exciting ride. Energetic stuff.