Star Ratings
| | |
| --- | --- |
| | Amazing |
| | Well good |
| | Fun |
| | Meh |
| | Rubbish |
| | | |
| --- | --- | --- |
| Film review: The King of Devil's Island | | |
Written by Ivan Radford
Tuesday, 26 June 2012 10:24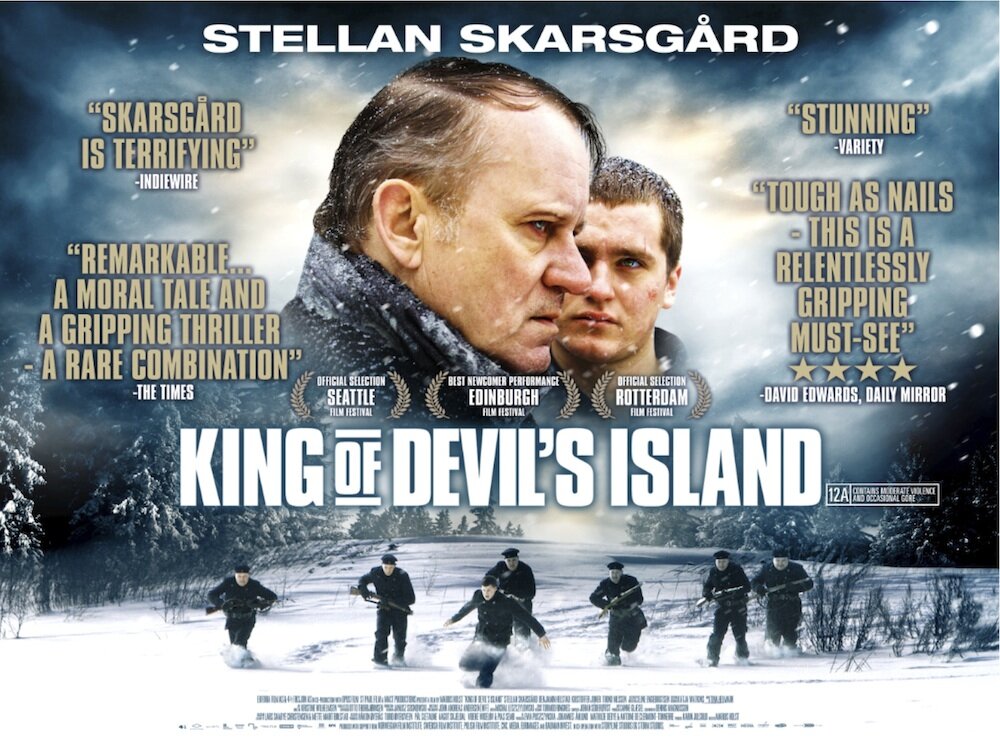 Director: Marius Holst
Cast: Stellan Skarsgård, Benjamin Helstad, Kristoffer Joner
Certificate: 15
Trailer
Back in 1977, the BBC banned Roy Minton's play Scum from ever being shown because of the brutality and violence portrayed in a British borstal. But imagine if it were based on actual events. The King of Devil's Island, a kidney-punching drama from Norway, is. And that gives its story about the 1915 riot in one youth prison a horrible, chilling impact.
C19 (Helstad) has killed a man. He is sent to Bastoy Island, a remote institute near Oslo. It's only accessible by a ferry that comes once a day. It's covered in snow. And it's run by Stellan Skarsgard. C19 is obviously not in for a nice time.
Sure enough, he spends his days carrying rocks, felling trees and scrubbing latrines, but C19 makes it clear to governor Bestyreren (Skarsgard) that he has no intention to fall in line – unlike goody goody dorm-leader C1 (Trond Nilssen), a smartly-dressed inmate who's set to be released back to the mainland in a few weeks. Instead, C19 stubbornly resists the oppressive rules of the prison, telling the other boys of his time as a harpooner on a whaling ship and plotting his escape.
Marius Holst's main weapon is a cool ambiguity: the dim skies and barren landscapes (hauntingly lensed by John Andreas Andersen) give everything a bleak shade of grey. To top it off, there are no clear-cut heroes or villains; each character faces their own dilemmas throughout the tough two hours. Do we like C19 because he stands up to the adults who abuse him, or because he's just as violent? Does the governor know what's going on between housemaster Brathem (the slimy Joner) and C5 (Magnus Langlete) in the laundry room? Does he want to?
The director is smart enough not to show us the worst offences – it's not until two-thirds in that anyone even says the words "sexual abuse". Rather, he lets word-of-mouth set the sinister mood and introduces the odd act of kindness, giving the excellent Skarsgard wriggle room in his role of detached authority figure.
But history dictates that events must escalate. And they do. Blackmail and torture both appear as writers Dennis Magnusson and Eric Schmid build steadily up to the fiery climax. The movie's moral restraint and moving performances from both Nilssen and Helstad result in an insurrection that's both shocking and shockingly justified. Norway's military response to the revolt is equally nasty – a grim conclusion that Holst offsets with a lyrical flourish, which moves and grips as history's austere exterior cracks to reveal the dark waters beneath.
The King of Devil's Island tells a story that's been told before. But it's a story that actually happened. As black-and-white photos of Bastoy float alongside the end credits, that terrifying knowledge will stay with you for days.