Star Ratings
| | |
| --- | --- |
| | Amazing |
| | Well good |
| | Fun |
| | Meh |
| | Rubbish |
| | | |
| --- | --- | --- |
| Marley and Me | | |
Written by Ivan Radford
Wednesday, 11 March 2009 10:31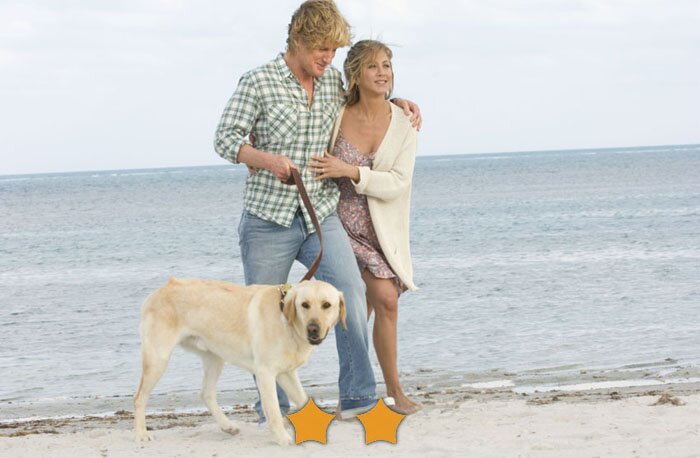 Director: David Frankel
Cast: Owen Wilson, Jennifer Aniston
Certificate: PG

"Leg-humping is a virus," warns a frizzy-follicled dog trainer with all the solemnity she can muster. Owen Wilson flashes a laid-back smile. "He normally only does it to poodles." This is Marley and Me, a dog flick that's low on laughs and high on sugar. Not the good kind of sweet stuff - this is the cloggy, saccharine stuff that kills.

Marley is one of those dogs. Not just a labrador, but a naughty one. The "world's worst dog", if you believe the movie's marketing or his owners, John (Wilson) and Jennifer (Aniston) Grogan. If Marley were to, say, viciously attack a child and ferociously gnaw upon its exo-skeleton, he would qualify for that description. Or, if he assembled a giant laser device upon a local landmark, threatening to up-end municipal peace without his extra portion of kibble, you'd be tempted to apply such a moniker. He doesn't do either.

What does Marley do that's so disastrously awful? Well, he knocks over a few tables and dislikes noisy weather. Aww, poor misunderstood Marley. But wait! It turns out that John and Jenny didn't really mean it. They were just tired and stressed. They love Marley. In fact, he's probably the best dog in whole wide world. Aww, good old Marley.

See how the movie works its little emotional trick? If you started to well up two sentences ago, you've no hope at all. Bring a vat of tissues. And some insulin.

Holding a household together with his antics, Marley is the foundation of the Grogan family. John, a journalist-turned-columnist, struggles to find things to wax lyrical about. Then the solution wags its tail in his face: Marley. Success soon comes running to John, whose everyday anecdotes entertain the masses (and his crusty editor, Alan Arkin). Jen is also a journalist, but she sacrifices her career for babies and dog-sitting. As the tension builds and the bickering starts, you sit there thinking: "I thought this was supposed to be a comedy?"

No, Marley and Me is one of those life-affirming dog films, which shows you how man's best friend can lead said man through his wayward life and out the other side, all the better for his canine companion. It's not a new story by far, but John Grogan's memoirs sold well, so it's no wonder they adapted them into a film. He's probably got one hundred and one dogs now. All made out of solid gold.

Wilson and Aniston make for a watchable couple - he's all chilled-out and charming, she's demonstrating her acting by playing someone with the same first name - and credit to Clyde and Jonah, the two dogs who make Marley a likeable mutt. But although it's meant to ring true, the bells are all too often drowned out by the schmaltzy soundtrack and heavy-handed use of home videos. By the inevitable end (two diabetics were carried out on stretchers), any genuine emotion has long gone walkies. Want to know the joy a mutt can bring to your life? Don't watch this; get a dog. 

VERDICT

"You can have lambie if you promise not to chew its other ear off," says a weepy child to her sick dog. "I'll have it," ventures Owen Wilson, planning to have a comfort chew later. This isn't just a sad day for him; it's a disappointment for dog-lovers everywhere.