Star Ratings
| | |
| --- | --- |
| | Amazing |
| | Well good |
| | Fun |
| | Meh |
| | Rubbish |
| | | |
| --- | --- | --- |
| Film review: The Fairy (La fée) | | |
Written by Ivan Radford
Monday, 25 June 2012 08:20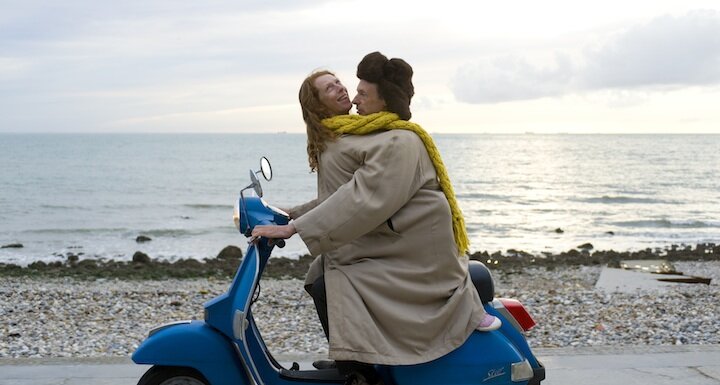 Director: Dominique Abel, Fiona Gordon, Bruno Romy
Cast: Dominique Abel, Fiona Gordon
Certificate: 15
Trailer
"My name is Fiona. I'm a fairy."
What do you say to that? If you're Dom (Abel), not a lot. A down-to-earth hotel receptionist, his idea of a good time is eating a ham sandwich. So when Fiona (Gordon) turns up in the lobby and says he has three wishes, he doesn't dream of much: just a moped. And free gasoline for life. He can't think of a third one.
She swiftly reappears with his bike and fuel – along with a shiny pair of shoes. And a brand new dress. Ta da! It must be magic. The fact that she's followed everywhere by the police is just a coincidence. Probably.
Fiona's bare feet and crazy ramblings soon give the game away. She's escaped from the local psychiatric institute. Of course. That explains everything. Except for how she can fly. And survive underwater while performing a madcap song and dance routine in her undies.
The Fairy is a lovely slice of magic realism, right down to Dom's oddball hotel guests – one scene-stealing resident (Philippe Martz, with all the fuzzy charisma of Colin Firth) hides his dog in his suitcase, prompting the luggage to jump about and crawl all over the walls. But before you can start wondering what's real and what's not, the bonkers lead couple are off on other, even more surreal, escapades.
You can tell from the spot-on choreography that Dominique Abel and Fiona Gordon have worked together before – together with their co-director Bruno Romy, the trio have honed their absurdist slapstick comedy to perfection. Part Jacques Tati, part Fred Astaire, The Fairy's deadpan silliness is so slick and off-the-cuff that it's hard to imagine the pair's gangly limbs doing anything else.
Half the time they don't even need dialogue to make it work. One car chase against an obviously fake back projection sees the long-legged Fiona stretching between vehicles, balancing a baby in one hand. Another finds Dom breaking her out of a hospital by hiding her in his coat – a stunt that will have you laughing like Whoopi Goldberg in The Lion King. And that's only halfway through; like last year's A Town Called Panic, the spontaneous madness just keeps on building, right up to the adorable, ridiculous finale.
There are, inevitably, a few misses among the hits and the plot is hardly The Usual Suspects, but The Fairy's flippant tone and fast pace means you won't care - not when it's trying this hard to make you smile. There are feel-good films. There are feel-great films. Then there's this. For 95% of The Fairy's runtime, it's pure happiness in a box.
"My name is Fiona. I'm a fairy." What do you say to that? If you're watching the film, not a lot. You'll be too busy trying to remember how to breathe.
VERDICT
The funniest comedy you'll see this year? It's certainly the most unique. The Fairy's side-splitting spell is impossible to resist.

Tags:
bruno romy
buster keaton
comedy
dominique abel
fiona gordon
france
fred astaire
jacques tati
magic realism
philippe martz
silent
slapstick