Star Ratings
| | |
| --- | --- |
| | Amazing |
| | Well good |
| | Fun |
| | Meh |
| | Rubbish |
| | | |
| --- | --- | --- |
| Film review: Free Men | | |
Written by Ivan Radford
Thursday, 24 May 2012 10:52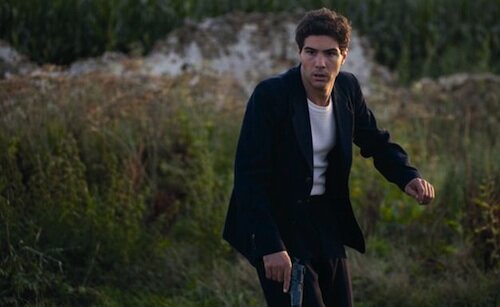 Director: Ismael Ferroukhi
Cast: Tahar Rahim, Michael Lonsdale, Mahmoud Shalaby
Certificate: 15
"What's that you say, Skippy? Another French occupation World War II drama? No, leave it down the abandoned mineshaft. We've had enough of those." That's the reaction you might have upon hearing the synopsis for Free Men (man joins uprising against German occupation), but this is one resistance flick that's worth a watch. Firstly, because it tells the less familiar tale of North African immigrants in wartime Paris. And secondly, because one of them is played by Tahar Rahim.
Fresh out of his turn in A Prophet, Rahim's on equally blistering form as Younes, a black market man who avoids trouble by hawking cigarettes rather than sharing political ideals. But a swift arrest later and he's forced to trade insider knowledge of the goings-on at a local mosque in exchange for his freedom.
Freedom. That's a word that gets used a lot in Ismael Ferroukhi's drama. But while the thought of Muslims chanting "Liberté!" and overcoming differences to protect Jews may sound heavy-handed, Ferrouski's film is anything but.
"France today, Algeria tomorrow," warns Younes' cousin, deeply involved with the underground African network. But Free Men's scale is far smaller than that: we spend our time watching Rahim's observer getting drawn in by seductive singer Salim (Shalaby), whose stunning vocals have earned him local fame. He's Jewish, but the mosque has given him false papers to say he's Algerian: a tactic regularly used by leader Si Kaddour Ben Ghabrit (Lonsdale, looking more like Brian Cox now than Moonraker's Drax).
Ferroukhi's slow-paced film works best in these quiet scenes, where Salim serenades a nightclub and Younes gets lost in the rhythmic drumming and his hypnotic voice. Rahim wanders around the deftly-shot city, never saying much but always watching. He particularly enjoys watching an enigmatic woman (Lubna Azabal) who helps out at the mosque. But even watching him watching other people is engaging. His furrowed eyebrows are intense, but his eyes paint a different picture: he has mastered Benedict Cumberbatch's art of looking like a deer caught in headlights, which conveys the gradual arrival of his conscience.
Crucially, though, there's no overplayed moment that heralds his political conversion; Free Men is a story about an unlikely friendship more than anything else. If Iron Sky doesn't float your boat, then this is the Nazi thriller for you. Sure, some may wish there were more exciting gunfights and last-minute dashes to safety, but the tension here comes from the characters, while the thrills come from watching the wily Michael Lonslade evade the authorities with little more than a smile. 
It's hardly a groundbreaking entry in the WWII resistance canon, but Free Men is that rare thing: a drama based on real people that remains resolutely low-key. And between Tahir Rahim's eyebrows and Michael Lonsdale's beard, that gentle approach speaks volumes.

Tags:
free men
ismael ferroukhi
lubna azabal
mahmoud shalaby
michael lonslade
moonraker
tahar rahim