Star Ratings
| | |
| --- | --- |
| | Amazing |
| | Well good |
| | Fun |
| | Meh |
| | Rubbish |
| | | |
| --- | --- | --- |
| Film review: How I Spent My Summer Vacation (Get the Gringo) | | |
Written by Ivan Radford
Wednesday, 09 May 2012 10:53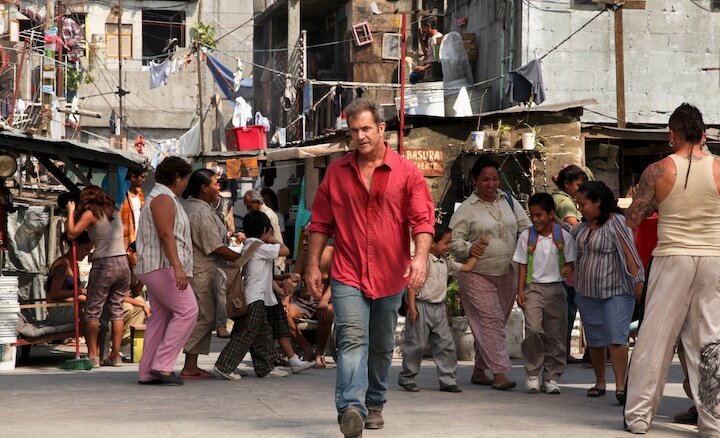 Director: Adrian Grunberg
Cast: Mel Gibson, Kevin Hernandez
Certificate: 15
Trailer
Has there ever been an actor harder to like off the screen but so easy to like on it? The world is all too familiar with Mad Mel's meltdown, but old Gibson just keeps on going, popping up in front of the camera to remind us why we all used to love him. You know, before he was so racist.
Like The Beaver, Get the Gringo is a film that comes surprisingly close to Gibson's real life controversy. Perhaps that's why it's been renamed for UK audiences to How I Spent My Spent My Summer Vacation – a title so inoffensive you expect Cliff Richard to turn up halfway through. Don't worry, he doesn't.
Adrian Grunberg's flick starts off with an arresting sight: a bunch of clowns in the middle of a car chase. Racing along the US/Mexico border with a trunk full of stolen dollars, Mel Gibson's Driver tries to escape the American police by jumping the wall. He lands, roof first, in Mexico – and is swiftly shipped off to El Pueblito, a small shantytown community that's closer to a slum than a jail.
"Is this a prison or the world's worst shopping mall?" he wonders aloud as he wanders about. It turns out that if you have cash, you can get anything inside. Convicts are even allowed to have their families move in with them if they pay enough. Gibson ends up bonding with 10 year old Kevin Hernandez, a boy under the protection of the prison's Grouty (Daniel Giménez Cacho), who teaches him what really goes on behind bars.
"Well, this is new…" comments Gibson to the audience as he observes the inmates going about their seedy business.
That's one of the problems with the movie: Mel's voiceover, which pops up at random intervals with no real purpose, mostly insulting the locals, occasionally self-deprecating, always acerbic. True, no one can swear at an audience and remain likeable as well as Mel, but tonally, this is all over the place. It could have been an out-and-out comedy, a straight-faced action movie or a sentimental drama – but How I Met My Summer Vacation tries to be all three. Grunberg and Stacy Perskie's script was co-written with Gibson, but both of them are first-timers, so it's anybody's guess who was driving the narrative boat.
Fortunately, Grunberg (fresh from 1st AD duties on Apocalypto and Edge of Darkness) knows how to put together a set piece – between the loud gunfights and silly car crashes, this grungy thriller rambles along at an entertaining lick. The characterization is simple (Gibson's Driver doesn't let ickle Hernandez smoke) but the pint-sized sidekick is as charming as Mel, whose charisma has never been stronger than when carrying out a very unique brand of revenge in a tweed suit.
The hectic juggling of subplots means that the movie misses the odd beat, but How I Spent My Summer Vacation is eedgy, enjoyable and - best of all - short. Given the choice, I'd take Mel Gibson's summer holiday over Cliff Richard's any day.

Tags:
adrian grunberg
apocalypto
cliff richard
daniel gimenez cacho
edge of darkness
get the gringo
how i spent my summer vacation
kevin hernandez
mel gibson
stacy perskie