Star Ratings
| | |
| --- | --- |
| | Amazing |
| | Well good |
| | Fun |
| | Meh |
| | Rubbish |
| | | |
| --- | --- | --- |
| Film review: Piggy | | |
Written by Ivan Radford
Thursday, 03 May 2012 14:07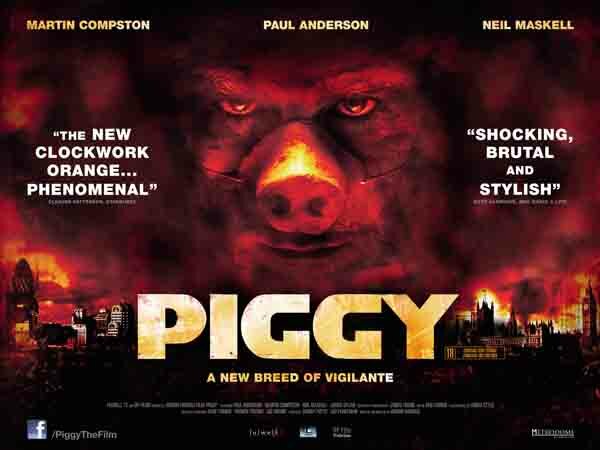 Director: Kieron Hawkes
Cast: Martin Compston, Paul Anderson, Neil Maskell, Louise Dylan
Certificate: 18
Trailer

"I don't even know who you are!" "I'm Piggy."
That's the moment that Piggy builds up to: the point at which harmless little Joe (Compston) starts to question what he's done. The problem is that the film doesn't know what to do once it gets there.
A quiet young man living in London, Joe's lonely routine – sleep, work, get high – is shattered when his bolshy older brother (Kill List's Neil Maskell) is attacked by a gang in an alley. He goes into extreme hibernation, barely speaking to the cute and kind love interest Louise Dylan. But then Piggy (Anderson) turns up on his doorstep. An old friend of his brother, he talks Joe out of the living room and into getting revenge. Physical revenge. With a hammer.
Kieron Hawkes' disturbing directorial debut is full of skull-crunching, leg-snapping violence - torture sequences take place in dingy buildings and grubby backstreets, where pliers and rope are fair game. The helmer is smart enough not to show all of it, relying on gory foley work to really unsettle. But after the third, fourth, fifth victim is tied up in a deserted bathroom, the scenes all blur together. The fact that the same conversation seems to take place between each one only adds to the repetition.
Are we, like Joe, losing track of what's happening? Is he really capable of such horrific outbursts of physical rage? Who is Piggy anyway?
Paul Anderson's psychotic presence is arresting to watch; his sadistic wheezing and over-played physical movements paint Piggy as a grotesque metaphor more than a person. But his relationship with the troubled Compston doesn't always work, hindered by the unimaginative dialogue and Joe's tendency to drift off into unnecessary philosophical voiceovers.
To say that things have more than a hint of Fight Club would be an understatement - from the off, the gritty visuals, crafty camerawork and debates about identity put Fincher's film firmly in the frame. To its credit, Piggy takes a different route, but it's an underwhelming one. Once we reach the halfway mark, you wonder where it's going to go. It could've taken us all the way to Snowtown but sadly, Piggy seems happy going nowhere.

Piggy is in cinemas from 4th May and out on DVD from 21st May.
Tags:
fight club
kieron hawkes
louise dylan
martin compston
neil maskell
paul anderson
piggy