Star Ratings
| | |
| --- | --- |
| | Amazing |
| | Well good |
| | Fun |
| | Meh |
| | Rubbish |
| | | |
| --- | --- | --- |
| Film review: Safe | | |
Written by Ivan Radford
Tuesday, 01 May 2012 17:27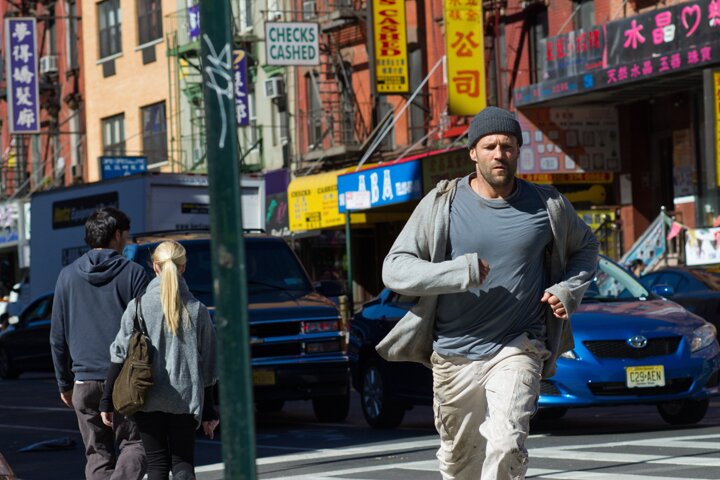 Director: Boaz Yakin
Cast: Jason Statham, Catherine Chan, Chris Sarandon, James Hong
Certificate: 15
Trailer
Academically-gifted children must live in constant fear of being abducted by criminal overlords - or even worse, guys with no hair determined to save them from criminal overlords. No wonder grades are slipping. Kids are scared that if they display a modicum of intelligence, some bald bloke will turn up outside the school gates and whisk them away to a life of bullets and car chases. You know, for their protection.
The latest girl to suffer this poor fate is Mei (Chan). She's good with numbers, which inevitably means that goons swiftly descend to use her brain for evil. Because computers are expensive these days.
Lucky for her, Jason Statham isn't far behind. Unlucky for her, he's got nothing to lose. A former cop who's made enemies in high places (i.e. a gangster with more than two syllables in his surname), his wife has been bumped off in front of him, leaving him alone, suicidal and very angry.
What follows is both blindingly obvious and stupidly complex. Crossing paths with double-crossing cops who he double-crossed once and may double-cross again, The Stath gets cross several times. But he's not as cross as Chinese kingpin Han Jiao (Hong), who threatens to kill Mei's mum if she doesn't memorise a really, really long number.
Will the Russian gangsters and double-crossing cops crack the Chinese code in Mei's head? Or will they wait 60 minutes for The Stath to say the movie's title out loud?
The whole silly story goes on for too long and doesn't know whether to make Mei or Stath the hero, but  let's face it: no one is watching this film for the plot. We just want to see Jason Statham kick butt for two hours. And on that very, very basic level, Boaz Yakin's thriller delivers. The Stath doesn't just kill people. He smashes them into puny pieces with his massive, manly balls.
"You have big balls!" exclaims a guy at one point. "I know," Stath growls back, swaggering out of the room.. "It's amazing I can even walk."
Fortunately, he's better at interacting with kids ("It's a nice drive if you like trees and shit...") and does a decent enough impression of a guy who finds redemption by rescuing a young girl. But you know what? That's nothing compared to what he can do with a fork.
In the end, the movie is saved by Catherine Chan's likeable little boffin. All wide eyes and smart charisma, you can't help but feel sorry for her. All she wanted was to do well at school. Still, it could have been worse: she could have been abducted by Bruce Willis.  

Tags:
boaz yakin
catherine chan
chris sarandon
james hong
jason statham
safe