Star Ratings
| | |
| --- | --- |
| | Amazing |
| | Well good |
| | Fun |
| | Meh |
| | Rubbish |
| | | |
| --- | --- | --- |
| Film review: The Monk | | |
Written by Ivan Radford
Friday, 27 April 2012 08:51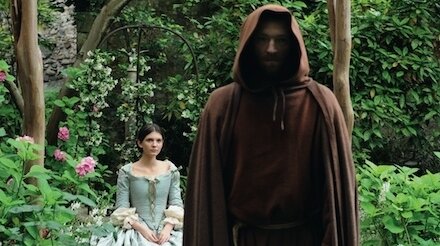 Director: Dominik Moll
Cast: Vincent Cassel, Joséphine Japy, Roxane Duran
Trailer
Vincen Cassel is Brother Ambrosio, a charismatic, misogynistic monk with groupies, found as a babe and raised in the monastery. He is devout and his emphatic sermons have earned him a huge celebrity following, including the lovely Antonia (Japy), who is moved to fainting. Sister Agnes (Duran), on the other hand, becomes a victim of Ambrosio's piousness when the monk discovers that the nun is pregnant; he has her punished, but she swears revenge.
Then, the mysterious masked Valerio appears at the monastery, horribly scarred in a fire, begging to be taken on as a novice. But this new novice has odd abilities and a strange hold over Ambrosio. And through a series of coincidences, Ambrosio meets and becomes obsessed with Antonia.
Dominik Moll's film treads heavily in gothic territory. The viewer is drawn into Ambrosio's increasingly tangled web that's leading him straight to hell - it's rather predictable, but the storytelling is taut and doesn't let up. The always-watchable Cassell carries the tale brilliantly, but the film feels somehow lacking, perhaps restricted by its origins. To its credit, though, The Monk remains serious, never dipping into the absurd; it treads the same sort of territory as Black Death and The Name of the Rose and stands up well against each, but it's no Season of the Witch. 

Tags:
dominik moll
joséphine japy
roxane duran
the monk
vincent cassel