Star Ratings
| | |
| --- | --- |
| | Amazing |
| | Well good |
| | Fun |
| | Meh |
| | Rubbish |
| | | |
| --- | --- | --- |
| Film review: Damsels in Distress | | |
Written by Ivan Radford
Tuesday, 24 April 2012 17:46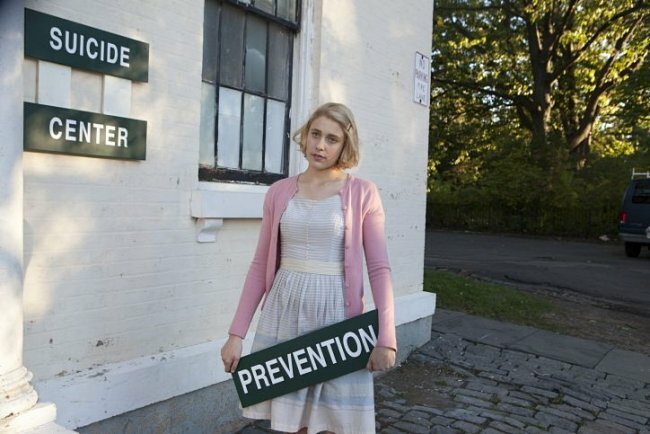 Director: Whit Stillman
Cast: Greta Gerwig, Ashleigh Tipton, Adam Brody
Certificate: 15
Trailer
Do you like Greta Gerwig? Do you like tap dancing? Then you'll like Damsels in Distress.




With all the sugary charm of a pretentious Mean Girls, Whit Stillman's college comedy follows Violet (Gerwig) and her girly clique as they attempt to reduce the number of sad students on campus by running the Suicide Prevention Centre – a place where people are given free coffee and doughnuts. Providing they can prove that they're clinically depressed.

 

Lily (Tipton) is at Seven Oaks for only a few minutes before she's snapped up by the group. Taken on as their latest project, Lily is treated to an onslaught of absurd philosophising and arrogant advice about love. "The tendency to seek someone cooler than you is always a stretch. Why not find someone who's frankly inferior?" suggests Violent. After all, improving the lives of those socially, intellectually and aesthetically beneath them is the Christian thing to do. "Well, Judeo-Christian, to be exact," she adds.

 

It's a great turn from Greta Gerwig, who delivers the over-written dialogue with brilliant timing, smiling inanely as she counsels girls recovering from failed relationships. But when Violet splits up with her own bloke and Lily finds herself with a guy who likes bum sex, things get a little less clear-cut.

 

You'd expect some moral lessons to be dished out around this point. They aren't. Instead, the characters change without warning or development, all the while recycling Stillman's signature speech patterns. That's the frustrating thing in Damsels in Distress: the simple lack of progression. Even with cute chapter headings (that betray a bitty script), things simply carry along in the same vein as the opening 20 minutes - and then just end.

 

But there are laughs to be had. Lots of them. Gerwig's lead idiot is spot-on, while her friend Rose (a deadpan Megalyn Echikunwoke) dismisses everything men do as "a playboy or operator type move" - who knew that the word "operator" could be laugh-out-loud funny? The odd bit of physical comedy works too, while the male cast members milk some amusing moronic moments, to the point where they can't even name the colour of their own eyes. 

 

If you can tolerate the inconsistent characters and a soundtrack that seems to alternate between only two bits of music, Damsels in Distress has an infectious sense of screwball fun. By the time the song-and-dance sequences arrive, you'll either be praying the college is shut down or dreaming of your own musical numbers with Adam Brody.

 

Tags:
adam brody
ashleigh tipton
damsels in distress
greta gerwig
mean girls
megalyn echikunwoke
tap dancing
whit stillman