Star Ratings
| | |
| --- | --- |
| | Amazing |
| | Well good |
| | Fun |
| | Meh |
| | Rubbish |
| | | |
| --- | --- | --- |
| Film Review: Battleship | | |
Written by Ivan Radford
Wednesday, 11 April 2012 14:51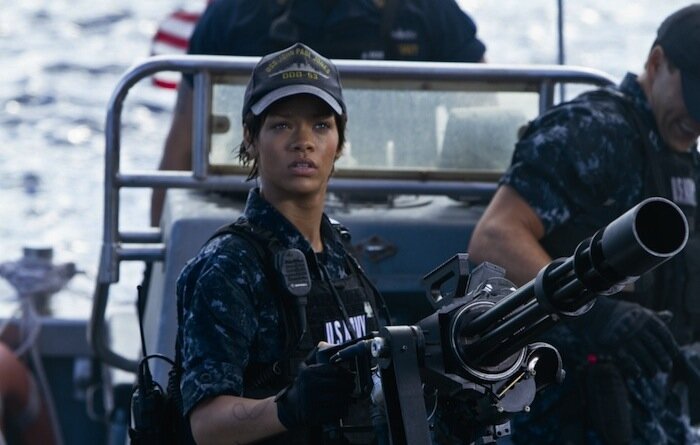 Director: Peter Berg
Cast: Taylor Kitsch, Liam Neeson, Brooklyn Decker, Rihanna
Certificate: 12A
Trailer
It's never a good sign when you struggle to hear a film's terrible dialogue over loud explosions and an audience's mocking laughter. That happens a lot in Battleship. The terrible dialogue. And the explosions - and the laughter.
"You gotta make a few calls for me," whines selfish naval officer Alex Hopper (Kitsch) to his brother, Stone (Alexander Skarsgard), after being threatened with dismissal. "Who do I call to get you some humility?" Skarsgard replies, delivering one of the worst line readings since Pierce Brosnan in Taffin. "I don't have that number."
Ok, so it's no surprise that a script based on a ship-sinking guessing game is a massive pile of hooey. What is surprising is how enjoyable parts of it are. Anyone who's played Ticket to Ride with the Alvin & Dexter expansion knows that board games can be fun when you add aliens and Peter Berg seems determined to prove that theory. As loudly as possible.
And so we have crunching explosions, sizzling forcefields and booming cannons, all topped by ear-splitting music - Battleship's soundtrack is so deafening that Transformers composer STEVE JABLONSKY should only have his name typed in capital letters from now.
Of course, all the puny humans are lost amid the grinding gears of naval machine porn. The script still tries to make us care about them, but it's a lost cause; the charismatic Kitsch is wasted in the lead, romantic interest Brooklyn Decker spends the whole movie standing on a cliff looking confused and real-life disabled marine Gregory D. Gadson is amost as bad at acting as Alexander Skarsgard. Even Rihanna's headline-grabbing film debut is forgotten; the pop star's Michelle Rodriguez impression blends right into Berg's backdrop of dumb, macho stereotypes.
All the while, Liam Neeson's stern admiral stomps about like a T-Rex in a hat, disappearing for most of the 133-minute runtime so he can finish chomping the scenery.
Add in a clichéd football match and a shipload of OAP war veterans (they get the biggest laugh in the film) and it's pretty obvious that Battleship is not a good movie. There are 10 cracking minutes of grid-based guesswork that are genuinely thrilling, but otherwise it's total guff. The question is: does it know that it stinks?
"Let's buy the Earth one more day," grunts Gadson, going metal-toe-to-metal-toe with E.T. to stop him phoning home. "Who actually talks like that?" wails Hamish Linklater's confused scientist. It's a brief glimpse of Battleship's self-aware brain, but it's one that's rarely used.
Still, Berg's endless sun-soaked slow mo suggests that he's all too aware of his blockbuster's stench - the sexy sweat of the American Navy, the lingering smoke of US gunpowder - and he absolutely loves it. He loves it so much that he completely forgot to include the line "You sunk my battleship!" at any point in the film. And yet someone does say that other well-known Battleship catchphrase: "Somebody's gonna kiss the donkey." Go figure. 
VERDICT
You'll spend most of Battleship laughing, but there's a tad more guilt here than pleasure.

Tags:
alexander skarsgard
battleship
brooklyn decker
hamish linklater
liam neeson
peter berg
rihanna
taylor kitsch