Star Ratings
| | |
| --- | --- |
| | Amazing |
| | Well good |
| | Fun |
| | Meh |
| | Rubbish |
| | | |
| --- | --- | --- |
| Film Review: The Pirates! in an Adventure with Scientists | | |
Written by Jo Bromilow
Tuesday, 27 March 2012 08:05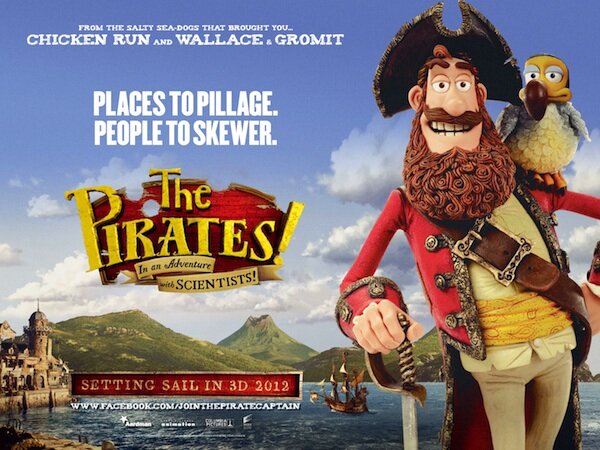 Director: Peter Lord, Jeff Newitt
Cast: Hugh Grant, Brendan Gleeson, Martin Freeman, Brian Blessed, Lenny Henry, Imelda Staunton, David Tennant, Salma Hayek, Jeremy Piven
Certificate: U
Trailer
Carving their own plasticine niche in the creature feature genre and the prison break, the talented team at Aardman lend their pliability to the popular pirate genre for their latest assault on the box office. The tale follows wannabe swashbuckler Pirate Captain (Grant) and his loveable misfit crew of stereotypical pirates/British actors - and a particularly big-boned parrot.
Together, they sail the Seven Seas in search of fame and fortune, battling the formidable pirate-hating monarch Queen Victoria (Staunton) and allying with luckless young scientist Charles Darwin (Tennant), hoping to finally win their captain the coveted Pirate of the Year award. 
Previous Aardman films have been smart at mixing a simple kid-friendly plot with pop culture snippets of genius to amuse the adults, and with The Pirates! Aardman's efforts rival Shrek 2 - from magazine covers and piratical bling to a very familiar blue ship badge (plus a soundtrack of Brit pop classics), parents will have fun spotting references and identifying the stellar Brit voices while the kids enjoy breathtaking action and slapstick humour aplenty. 
But even though the animation is beautiful and the one-liners are hilarious, the plot feels a few buckles short of a swash - it's too much of a rollercoaster to give great characters and clever details the time to develop.
Marrying British wit with the traditionally 'all mouth, no trousers' pirate genre should have been putty in Aardman's hands, but this frantic frolic falls just a cannonball short of true greatness.

Tags:
aardman
brendan gleeson
brian blessed
david tennant
hugh grant
imelda staunton
jeff newitt
jeremy piven
lenny henry
martin freeman
peter lord
pirates