Star Ratings
| | |
| --- | --- |
| | Amazing |
| | Well good |
| | Fun |
| | Meh |
| | Rubbish |
| | | |
| --- | --- | --- |
| Film Review: We Bought a Zoo | | |
Written by Ivan Radford
Thursday, 15 March 2012 07:10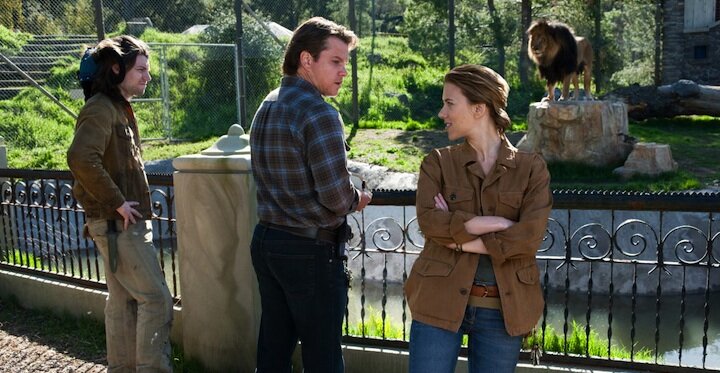 Director: Cameron Crowe
Cast: Matt Damon, Scarlett Johansson, Thomas Haden Church, Colin Ford, Elizabeth Jones
Certificate: 12A
"We Bought a Zoo!" shouts Rosie (Jones). She's 9 years old. Her dad just bought a zoo. She's very happy about it. Amazingly, so is he. Attempting to get over his wife's tragic death, Benjamin Mee (Damon) jumps on the unusual piece of real estate when he sees his daughter's reaction. His stroppy son Dylan (Ford) is less convinced. Neither is ridiculously-good-looking zookeeper Kelly (Johansson). "Why did you buy this place?" she asks. Ben's reply: "Why not?"
At times, you suspect Cameron Crowe didn't get any further than that with his script. At others, it doesn't really matter. Based on a true story, the Jerry Maguire director seems content just ploughing through the obvious emotions and milking the zoo for all its worth - the film works a lot better if you think of it as a prequel to Jurassic Park.
"I get it man, the whole 'they're in cages but so are we' thing, it's beautiful," observes Ben's cynical brother (Haden Church), cleverly deployed to echo any snide comments from the audience. But for every snarky curve ball he fields, there's a sun-drenched montage of creatures, trees and whimsical music, which inevitably ends with Rosie saying something cute like "We bought a zoo!" and other words that aren't in the title.
"I gave all the baby peacocks names!" she boasts, smiling like a kid who owns a zoo. The trouble is that she's utterly adorable. And so is Scarlett Johansson. And Matt Damon. And the depressed grizzly bear Bart. And Solomon the tiger. In fact, they're all annoyingly lovely. Even the music is by Sigur Ros' Jonsi. He's quite lovely too.
It's tough, though, to get excited by Kelly and Ben's blossoming romance because the script spends most of the runtime focussing on his deceased wife. There are some well-acted family shouting matches but as a study in grief, this is no Rabbit Hole - Damon's tearful trip down memory lane using his MacBook's image library quickly turns from Don Draper's carousel into an advert for iPhoto.
Yes, the sentiment level is high. Almost too high. It's a wonder John Michael Higgins' safety inspector doesn't shut the zoo down to save the monkeys from drowning in schmaltz. What happens if the zoo fails? Can Matt Damon pay the food bills? Will they overcome all the other contrived obstacles the final act throws at them? It all rounds off in a feel-good manner that will shock anyone who hasn't studied Script-writing Cliches 101, but it's hard to hate something so full of likeable people and loveable creatures.
Unfortunately, Crowe never quite decides which hairy ensemble should win our hearts. In trying to give us a reason why we should see the movie, he only ever manages to echo Matt Damon's whimpering answer from the start: "Why not?" But in a week where a 14 year old girl just bought a house in Florida for $12,000, maybe a grown-up buying a zoo needs no explanation after all.
VERDICT
We Bought a Zoo is charming enough to be inoffensive. After all, it's better than Fierce Creatures.

Tags:
cameron crowe
colin ford
elizabeth jones
matt damon
scarlett johansson
thomas haden church
we bought a zoo