Star Ratings
| | |
| --- | --- |
| | Amazing |
| | Well good |
| | Fun |
| | Meh |
| | Rubbish |
| | | |
| --- | --- | --- |
| Film Review: Hunky Dory | | |
Written by Ivan Radford
Thursday, 01 March 2012 13:04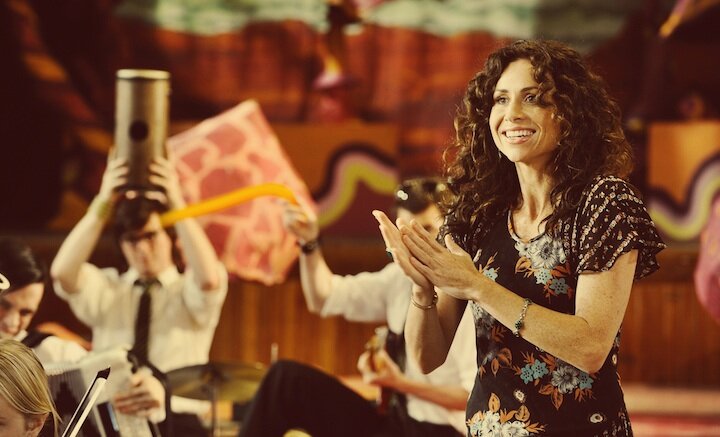 Director: Marc Evans
Cast: Minnie Driver, Aneurin Barnard, Danielle Branch, Robert Pugh, Haydn Gwynne, Darren Evans
Certificate: 15 
Trailer
Marc Evans' Hunky Dory is a likeable, free-wheeling film, full of nostalgia, talented young actors and Minnie Driver doing a Welsh accent. It's not perfect by any means, but compare it to the portrayal of youth in this week's Project X and the amount of soul in this Brit flick is really endearing. It's almost enough to make you forgive the undeveloped subplots and all-too-familiar characters.
It helps that the cinematography is warm and the performances are cheerful, but the thing that stands out the most is the music. Performed by the cast, it's a medley of 70s pop, with a big emphasis on David Bowie.
And so, in honour of this awesome soundtrack (which I have since listened to repeatedly), here's a review of the movie, to be sung to the tune of Life on Mars:
It's a god-awful small affair
for Viv (Driver), who has mousy hair.
Stuck-up teachers (Gwynne) are yelling "No!"
They don't care about her little show.
But Viv's fear is nowhere to be seen
as she talks to the kids of Swansea
about post-school life after they leave,
even though some look near 40.
Hunky Dory might sound like a bore,
like you've heard it 10 times or more,
but Marc Evans' film feels new -
full of Bowie, Shakespeare and Minnie...
Driver,
lighting up the school hall.
Oh man!
Look at that actress go:
It's like Glee's new Welsh show.
Take a look at those songs, man,
the soundtrack is a must-buy.
Oh man!
The Byrds, Beach Boys and ELO -
they cover them with soul.
Is there life in Wales? 
It's on Davey's (Barnard) tortured brows;
Stella (Branch) just wants to be friends, the cow.
But in the heatwave of '76,
there was no stopping these young kids.
An unrequited, emo horde,
hormones mucking up all their thoughts.
They're closer to glum than to Glee, 
which makes their growing pains genuine;
Darren Evans has talent galore,
but Barnard steals the show at the fore.
He looks just like Elijah Wood
but this Hobbit can sing - like Minnie...
Driver,
lighting up the school hall.
Oh man!
Look at that actress go.
It's worth watching for those
scenes with Shakespeare and songs, man.
This movie's easy to like.
Oh man!
It drags but buiilds to a great close:
The Tempest's musical show.
Is there life in Wales? 
(Hell yes, there is.) 

Tags:
aneurin barnard
danielle branch
darren evans
david bowie
glee
haydn gwynne
high school musical
hunky dory
life on mars
marc evans
minnie driver
robert pugh