Star Ratings
| | |
| --- | --- |
| | Amazing |
| | Well good |
| | Fun |
| | Meh |
| | Rubbish |
| | | |
| --- | --- | --- |
| Film Review: Rampart | | |
Written by Ivan Radford
Monday, 20 February 2012 13:29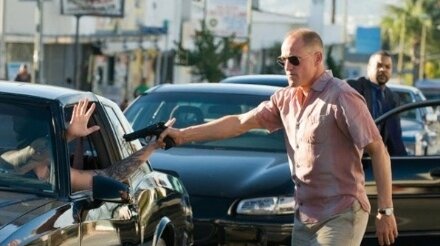 Director: Oren Moverman
Cast: Woody Harrelson, Robin Wright, Anne Heche
Certificate: 15
"You're a racist, a bigot, a womanising chauvinist and homophobic - or you just really hate yourself." That's what Dave Brown's (Harrelson) daughter thinks of him. A bulllish cop with an old-school tendency for violence, especially towards black people, he's a relic of the police force. You can tell that from his nickname: Date Rape Dave.
Famed for allegedly gunning down a rapist in cold blood, Dave spends most of his time drinking, smoking and hitting on women. And then drinking again.
When not hopping between random beds in L.A., he returns home to his two ex-wives, who are holed up under one roof with his estranged daughters. In short, Dave is not a nice man.
So why is it that we like such a foul, loathsome dinosaur? That's the charm of Woody Harrelson, who makes Rampart annoyingly charming in one of his more intense on-screen roles. Supported strongly by Robin Wright and Anne Heche (and Ben Foster as a disabled junkie), Harrelson mines the depths of his screwed-up psyche, beating up pedestrians and vomiting outside sex clubs like there's no tomorrow - and if there is a tomorrow, it frowns upon beating up pedestrians and vomiting outside sex clubs.
But Harrelson's raw charisma can't disguise a straggling screenplay. Co-written by director Oren Moverman and James Ellroy, it bears all the hallmarks of the latter's absorbing portrayal of the LA cop scene, but none of his clever plotting. Either something got badly edited or Ellroy had an off day.
At least it's nicely presented. One striking sequence round a justice department table sees the camera spin in circles as Steve Buscemi and Sigourney Weaver batter Rampart with questions and moral lectures. It's clear that Moverman can shoot LA's skyline in his sleep, but his scripting just isn't up to scratch. Rampart's being presented to the world as featuring "one of the most talked about performances of the year". That's probably because everyone's talking about how disappointing the rest of it is.
VERDICT
Rampart is a curious character study, but struggles as a cop drama. 

Tags:
anne heche
ben foster
james ellroy
oren moverman
rampart
robin wright
sigourney weaver
steve buscemi
woody harrelson