Star Ratings
| | |
| --- | --- |
| | Amazing |
| | Well good |
| | Fun |
| | Meh |
| | Rubbish |
| | | |
| --- | --- | --- |
| Review: Haywire | | |
Written by Ivan Radford
Monday, 16 January 2012 12:15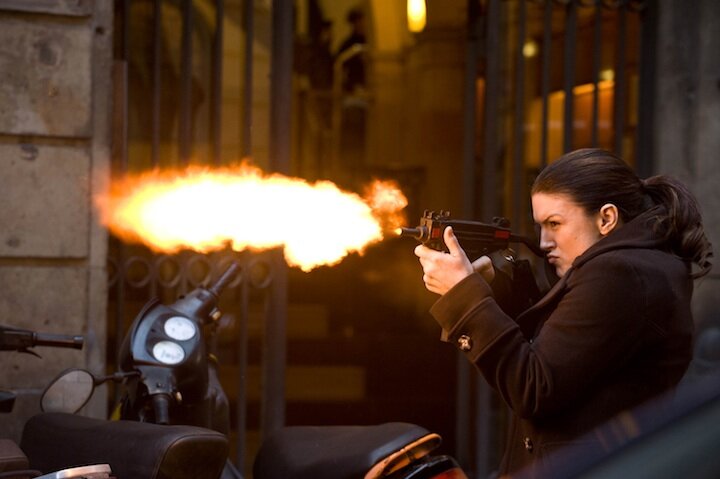 Director: Steven Soderbergh
Cast: Gina Carano, Ewan McGregor, Channing Tatum, Antonio Banderas, Michael Douglas, Michael Fassbender, Bill Paxton
Certificate: 15
Trailer
"Don't think of her as a woman. That would be a mistake."
That's Kenneth's (McGregor) take on Mallory Kane (Carano), a lady with a lethal streak as blunt as her name. A newcomer to cinema, the MMA star doesn't so much act as pummel her way through the screen, tearing up everything in her path like a machine with the dial switched firmly to "kill". And thighs switched firmly to "squeeze".
There is a plot to Haywire, but it's not worth repeating. Double-crossed by so-and-so, betrayed by wotshisname, sold out by thingumybob, Mallory swiftly wreaks a campaign of bloody revenge - beginning with a brutal smack-down in a coffee shop. (You know a movie's going to be good when it starts with Channing Tatum getting punched in the face.)
Make no mistake: this is standard B-movie trash, but Soderbergh shoots it with 60s class. Cut to a David Holmes soundtrack, it wreaks of retro cool - you can easily imagine him directing a Sean Connery Bond film. If Connery were replaced by a woman with the intensity of a landmine and legs that would make Xenia Onatopp gasp for breath.
Soderbergh keeps the visuals (and music) calm during the actual punch-ups, putting the focus on Carano's violent talents. It's a smart decision that shows the helmer understands how to tackle the punchy-kicky-thigh-squeezy genre.
The other benefit of having Soderbergh at the helm is that he brings a good cast with him. As well as Carano's intimidating presence, Michael Douglas makes for a suitably slippery government official and Bill Paxton is believably devoted as Mallory's estranged dad. Antonio Banderas, meanwhile, has a lot of fun wearing a great big bushy beard. As for Ewan McGregor, there's a reason why he's never been a Bond villain.
Michael Fassbender pops up briefly, too, as Mallory's male counterpart in the film's standout scene; after some suave pleasantries, the couple collide in a hotel room in a bone-shattering frenzy of broken glass and cracked bookcases. The furniture barely makes it out alive.
The question is: is that enough? Does the hard-hitting action make up for the obvious screenplay, even if some of the set pieces suffer from sped-up OHMSS syndrome? With Soderbergh shooting and Carano throwing the punches in under 93 minutes, the answer's mostly a hell yes. After all, who needs a plot when you can crush Magneto's face to death between your legs?

What did you think of the film?
( 3 Votes )
Tags:
antonio banderas
bill paxton
channing tatum
ewan mcgregor
gina carano
haywire
michael douglas
steven soderbergh