Star Ratings
| | |
| --- | --- |
| | Amazing |
| | Well good |
| | Fun |
| | Meh |
| | Rubbish |
| | | |
| --- | --- | --- |
| Review: Alvin and the Chipmunks: Chip-Wrecked | | |
Written by Ivan Radford
Tuesday, 13 December 2011 06:11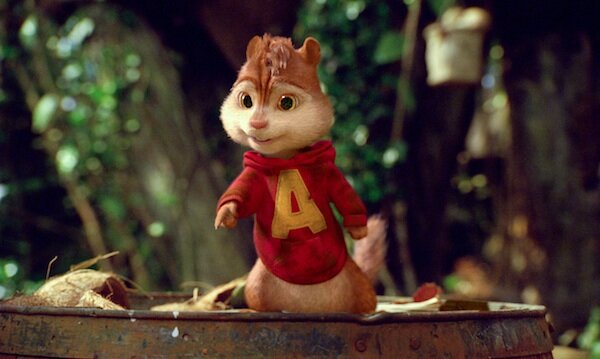 Director: Mike Mitchell
Cast: Justin Long, Matthew Gray Gubler, Jesse McCartney, Jason Lee, David Cross
Certificate: PG
As far as God-awful puns go, at least Chip-Wrecked is a lot more tolerable than "The Squeakquel". And that's true for the rest of this high-pitched third outing. If your eardrums can make peace with the helium-gobbling rodents (let's be honest - you've had long enough to adjust your hearing by now), Alvin and the Chipmunks 3 is not all that terrible. In fact (whisper it), it's quite fun if you're younger than 10.
Alvin (Long), Simon (Gubler) and Theodore (McCartney) are on a cruise with their human owner/manager/parent/actor-who-should-probably-know-better, Dave (Lee). In between playing shuffle board and disrupting the ship's peace, they end up lost overboard and wind up on a desert island. Chip-Wrecked, if you will (OMG, THAT'S THE TITLE OF THE FILM). 
What follows is a lazy pile of plot points taken from other films. Neurotic Simon gets bitten by a spider and discovers his adventurous French alter-ego, Simone. Alvin worries that his immature attention-seeking has driven away his owner/manager/parent/actor-who-should-probably-know-better. And up pops a mad woman (Jenny Slate) who's been stranded on the island for a decade - and is looking for treasure. 
But the best thing about shoving together so many derivative ideas? There's barely any time for singing. The annoying squeaky dance routines that do appear are mercifully short, and mostly belong in the opening 15 minutes. The rest is taken up by a worryingly impressive blend of live action landscapes and CGI characters that carries a surprising amount of integrity - mainly because director Mike Mitchell doesn't cheapen his visuals with 3D gimmicks.
Couple that with a brief 80-minute runtime and a hefty dose of David Cross as evil manager Ian (who steals scenes just by standing in the background in a pelican suit) and you've got a fairly OK kids film. The chipmunks may not be as cute as the Happy Feet penguins, but this sequel makes a lot more sense. And when Jason Lee brings in the heavy moral guns at the end, you might even find yourself a little bit moved  - if you take out your earplugs first. Can we learn to love these squeaky animals even though they're really annoying? I SAID, CAN WE LEARN TO LOVE SQUEAKY ANIMALS EVEN THOUGH THEY'RE REALLY ANNOYING?
VERDICT
For all its ear-splitting, money-grabbing, pun-loving stupidity, Alvin and the Chipmunks: Chip-Wrecked is actually not all that bad. But that doesn't mean they should make a fourth one.

Tags:
alvin and the chipmunks
chipwrecked
david cross
jason lee
jesse mccartney
justin long
matthew gray gubler
mike mitchell