Star Ratings
| | |
| --- | --- |
| | Amazing |
| | Well good |
| | Fun |
| | Meh |
| | Rubbish |
| | | |
| --- | --- | --- |
| Review: Snowtown | | |
Written by Ivan Radford
Wednesday, 16 November 2011 08:58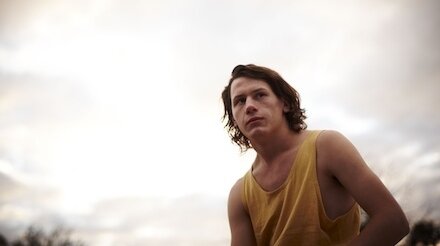 Director: Justin Kurzel
Cast: Lucas Pittaway, Daniel Henshall, Louise Harris, Craig Coyne, Richard Green
Certificate: 15
Trailer
Snowtown is not a happy film. A dramatisation of the actions of Australia's most prolific serial killer, John Bunting, it's a gruesome watch. But it's also incredibly gripping. Some might compare it to the uncomfortably brilliant Animal Kingdom, last year's Australian crime epic, but this is a different kettle of fish altogether. It's a true story, which gives the whole thing a walloping punch.
Jamie (Pittaway) is a young kid with an older sibling who likes to abuse him. A quiet, mild-mannered boy, he lies down, grimaces and bears it. Even when the bloke next door forces him and his brothers to take their clothes off while babysitting, he doesn't do anything.
Enter John (Henshall). A friendly guy with a big smile and bushy beard, he takes a lot of pleasure in sorting out the friendly neighbourhood paedo. A little too much pleasure, in fact. Hosting meetings round the dinner table with like-minded locals, he swiftly settles in as the patriarch of the house, waging a campaign against child molesters from the kitchen. All the while, he coaxes Jamie to adopt his violent ideology.
But what starts out as a series of brutal beatings soon becomes darker. After claiming to target the abusers in town, John's gaze aims wider, and soon anyone thought to be a homosexual is rounded up and taken to a darkened room so their toenails can be pulled out with pliers. Then the victims are slowly dispatched, chopped into pieces and stored in barrels of acid, after being forced to record an answerphone message to explain their sudden absence.
So no, it's not a happy film. But Snowtown's most shocking decision is the perspective of Shaun Grant's script. We follow things through Jamie's eyes, identifying with his anger and gradual transformation, much like This Is England and (yes) Animal Kingdom. As the vulnerable lead, Pittaway is extremely likeable, while Henshall's cheerful performance is horribly disarming. Together, they create perhaps the most disturbing rationalisation of murder since The Talented Mr Ripley.
But where Animal Kingdom's young protagonist sought redemption, Snowtown's factual origins give Jamie a fixed destination and Kurzel covers his case in every detail. It leads to a slightly bloated third act, but the unflinching direction and almost non-existent soundtrack give events the feel of a documentary. As the pile of bodies gets bigger, Snowtown spirals into haunting territory, climaxing in a bold and striking final shot. 
VERDICT
Snowtown is long and unpleasant, but it's a challenging depiction of reality that reveals the uneasy, natural onset of evil.

What did you think of the film?
( 1 Vote )
Tags:
animal kingdom
australia
craig coyne
daniel henshall
justin kurzel
louise harris
lucas pittaway
richard green
snowtown
this is england