Star Ratings
| | |
| --- | --- |
| | Amazing |
| | Well good |
| | Fun |
| | Meh |
| | Rubbish |
| | | |
| --- | --- | --- |
| The Curious Case of Benjamin Button | | |
Written by Ivan Radford
Friday, 06 February 2009 12:19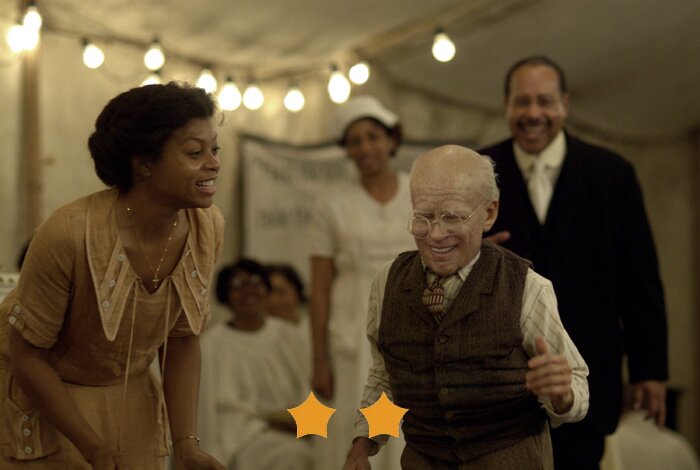 Director: David Fincher
Cast: Brad Pitt, Cate Blanchett
Certificate: 12A

My name is Benjamin Button. And I was born under curious circumstances. Not as curious as the day I met a 6 year old girl, when I still looked like an old man. And that day's curiosity was, in turn, surpassed by the time when I was arrested for our improper relations, conducted under the table by candlelight. But more curious still, was the day when a film about my life (from a short story by F. Scott Fitzgerald) was nominated for 13 Oscars.


David Fincher abandons his usual territory for this sprawling epic about a man who ages backwards. Benjamin Button, born a spitting image of Brad Pitt, seems destined for special things. Growing perpetually younger, he soon forms a dodgy connection with the ballet dancer, Daisy (Blanchett). She ages like a normal person. Tragically split by their contra-temporal flows, the couple's romance is doomed from the off. The moral of the story? Stay away from the freak. But this is no ordinary freak. He is Benjamin Button - surely a man with an alliterative name and a Forrest Gump-like ability to turn up at all important historical events must be worth your time? He's seen so many things, he must be an interesting person.


Wrong. For all his birth's circumstantial curiosities, Benjamin remains one thing throughout his life story: boring. People are constantly asking him to tell his life story and all the interesting things that have happened to him. But interesting occurrences do not an interesting person make. Unless you enjoy hearing endless maxims like "you never know what's coming at you" and "our lives are defined by opportunities". Fitzgerald's premise is inspiring, yes, but Eric Roth's screenplay isn't. Benjamin's intrigue is, quite literally, only skin deep.


There are moments, of course. Funny, clever touches that bring his tale to life (a man struck by lightning is particularly enjoyable). But these are, as with all things in life, transient, passing on so that the dull narrative can resume its inevitable course. It's all shot quite beautifully (moonlit gazeboes and flooded clocks ahoy), and the visual effects are superb, but there's not much to engage with here. Even the bond between the two lovers only engrosses towards the end of the runtime - switching from paedo to parental with elegance. Meanwhile, you'll have to make do with an overlong story that, unlike its protagonist, gets old quickly. As born-again Brad rolls over to the haggard Cate, he drawls: "I was just thinking about how some things don't last, and what a shame that is." Cate replies: "Some things do last." That can be a shame too.


VERDICT


Gazing upon the newborn baby Benjamin, a mother unwittingly sums up the whole sorry thing: "It's a miracle. Just not the type you want to see."