Star Ratings
| | |
| --- | --- |
| | Amazing |
| | Well good |
| | Fun |
| | Meh |
| | Rubbish |
| | | |
| --- | --- | --- |
| Review: Albatross | | |
Written by Ivan Radford
Tuesday, 11 October 2011 13:20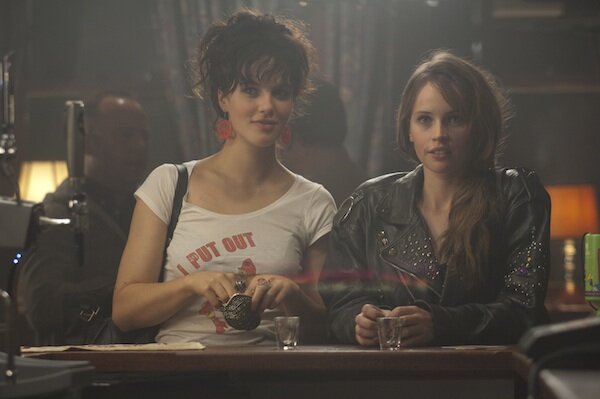 Director: Niall MacCormick
Cast: Jessica Brown Findlay, Felicity Jones, Sebastian Koch, Julia Ormond
Certificate: 15
Trailer
Aspiring writer Emilia Conan-Doyle (yes, she is related to the Sherlock Holmes author) breezes into The Cliff House, a boring B&B on The Isle of Man. She's horrible, she's likeable, she's incredibly hot. She swiftly makes friends with the bookish Beth (Jones), who's growing up with aims of going to Oxford. And, of course, she's a lightning rod for Beth's dad, Jonathan (Koch). And his lightning rod.
A failed author struggling to repeat the success of his first book, Jonathan's a pretentious perv, who swans about the attic all day wearing scarfs and jerking off - what else is there to do on The Isle of Man?
It's no surprise that he gets excited by the arrival of Emilia Conan-Doyle (yes, she is related to the Sherlock Holmes author), but then not much of Albatross is that surprising.
Written by first-timer Tamzin Rafn, Albatross' script is predictable stuff. Senile old relatives and university applications run about the village carrying signs saying "Major Plot Point" and "Symbolic Film Title", but director Niall MacCormick gives events a distinctly charming air.
A lot of that is down to his well-chosen cast. Front and centre is Jessica Brown Findlay, a superb new talent, who balances exuberant energy and brash rudeness to turn her MPDG into more of a sympathetic cow. Felicity Jones is a natural foil for Findlay's loud presence, adding a realistic edge to proceedings, while Sebastian Koch's tosser clearly enjoys being sleazy and drooling all over the young girl. Julia Ormond has fun, too, as the frustrated housewife, even if she does spend most of the film forcing her youngest child to do ballet.
At the helm, MacCormick has a nice way with the lens, making The Isle of Man look pretty enough to tempt you to visit (but not to stay in The Fischer family's messed up B&B). And it's that mix of cute presentation and quality casting that stops the familiar (albeit amusing) screenplay from becoming boring. When it comes to awkward emotions and painful conflict, Albatross is far from The Squid and the Whale, but it's no dead bird. For every moment of cliched drama, there's a shot of Emilia Conan-Doyle (yes, she is related to the Sherlock Holmes author) in a Princess Leia bikini. That's a burden I'm willing to bear.
VERDICT
Albatross is more winning than wince-inducing, mostly thanks to Jessica Brown Findlay - she can hang around my neck any day.

What did you think?
( 1 Vote )
Tags:
albatross
felicity jones
julia ormond
niall maccormick
sebastian koch