Star Ratings
| | |
| --- | --- |
| | Amazing |
| | Well good |
| | Fun |
| | Meh |
| | Rubbish |
| | | |
| --- | --- | --- |
| Review: Johnny English Reborn | | |
Written by Ivan Radford
Monday, 03 October 2011 12:35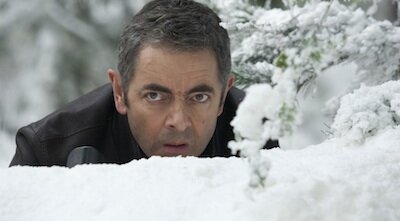 Director: Oliver Parker
Cast: Rowan Atkinson, Rosamund Pike, Gillian Anderson, Dominic West
Certificate: 12A
Have you seen those adverts starring Rowan Atkinson's incompetent secret agent? No, not the ones currently plastered all over UK buses – the original Barclaycard skits from the 90s. It's rather impressive that 20 years on, people are paying to see the same James Bond spoof on a big screen. What's more impressive is that after the generally likeable and harmless first film, this pointless sequel isn't actually that bad. Well, it's better than Quantum of Solace anyway.
The main reason it's watchable? Rowan Atkinson. The man who made the name "Bob" funny, Atkinson has arguably the best comic delivery in the business. Which is why it's a shame to see him so wasted on this nonsense.
Johnny English returns from a lengthy absence to find himself in the middle of a plot. Whatever the plot is, it's highly forgettable, but it's a plot nonetheless. And the only way to solve it? Get kicked in the balls in the Tibetan mountains.
After 5 minutes of this monk-like retraining, Johnny becomes reborn - and Oliver Parker's film shifts away from the fundamentals of Atkinson's character: English is meant to be a bumbling idiot who flukes his way to success, helped by a smart sidekick. But now he's good at karate and easily parachutes off a cliff in style. It seems daft to criticise a sequel for not offering more of the same, but Johnny English 2 is a different film to the first – and not as funny because of it.
Of course, there's also something about mole in MI7. Who could it be? Suave, sexy, way-above-suspicion super-spy Simon Ambrose (Dominic West) doesn't know. Neither does English's Dench-like boss (Gillian Anderson), although she does have a mother who looks a bit like an elderly Chinese assassin – a mistaken identity that writers William Davies and Hamish McColl mine shamelessly for gags throughout.
That and the laboured crotch-kicking aside, there are some amusing moments. MI7 is now sponsored by Toshiba ("Spying for you") and has a shiny colourful HQ open to the public, while one excellent free-running sequence sees Johnny embrace his physical incompetence; as the henchman clambers down wobbly bamboo scaffolds, he simply takes the lift.
It all explodes in a snowbound finale that does nothing big or particularly clever. For all its stunts and solid supporting cast, the film essentially boils down to a scene in which Atkinson pretends to fight himself. Fortunately, Rowan punching himself in the face is fairly entertaining to watch - but it's mostly because he probably deserves it for starring in this unnecessary film.
VERDICT
Not a total disaster - after all, it's better than Quantum of Solace. 

What did you think?
( 3 Votes )
Tags:
dominic west
gillian anderson
hamish mccoll
johnny english reborn
oliver parker
rosamund pike
rowan atkinson
spoof
william davies