Star Ratings
| | |
| --- | --- |
| | Amazing |
| | Well good |
| | Fun |
| | Meh |
| | Rubbish |
| | | |
| --- | --- | --- |
| Cambridge Film Festival Review: Resistance | | |
Written by Selina Pearson
Sunday, 25 September 2011 17:19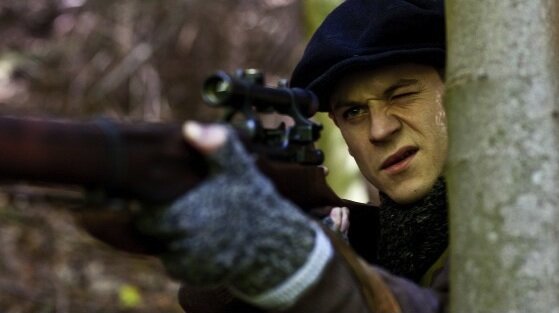 Director: Amit Gupta
Cast: Andrea Riseborough, Tom Wlaschiha, Michael Sheen
Certificate: PG
It's been five years since the failed D-Day landings and the UK is gradually succumbing to the invading German forces. In this alternate version of 1944, all the men in the isolated Olchon valley have disappeared. At the same time, a handful of German soldiers forming an observation team have entered the black mountains of Wales. Finding only a handful of women in the bleak landscape, the encroaching Nazis find both the locals and the environment hostile.
Sarah (Riseborough) feels the disappearance of her husband keenly, but she and the others must continue with their everyday existence. There are gaps in each of their lives; an old woman badly needs her roof fixing, the church is deserted. The presence of the soldiers is a mystery - their leader, Captain Albrecht (Wlaschiha), appears to have an agenda all his own and is determined to stay under the Gestapo's radar.
And so the women distance themselves from the Germans; while they do not actively resist them (that would be futile), they will not help them. That is, until the winter comes, when they come to an understanding based on shared sufferance. Meanwhile, the underground resistance, headed up by Michael Sheen (in a brief but a pivotal role) has its orders.
Despite the harsh conditions, the cast work well. Riseborough is heartbreaking as the pragmatic Sarah and Wlaschiha is curiously sympathetic as the battle-weary soldier - both are lost in the rubble of war. In the end, the film is about when and how the characters accept defeat. Some fight to the very last, and others just want it all to end. Luckily, you won't feel the same about the film. Resistance is a striking but bleak adaptation of Owen Sheers' book, and a promising debut from director Amit Gupta.
VERDICT
A sad tale of defeat, resignation and resistance. The bleakness leaves you feeling empty, but this is well directed stuff.

What did you think?
( 4 Votes )
Tags:
amit gupta
andrea riseborough
cambridge film festival reviews
michael sheen
resistance
tom wlaschiha