Star Ratings
| | |
| --- | --- |
| | Amazing |
| | Well good |
| | Fun |
| | Meh |
| | Rubbish |
| | | |
| --- | --- | --- |
| Review: Tabloid | | |
Written by Selina Pearson
Wednesday, 09 November 2011 12:39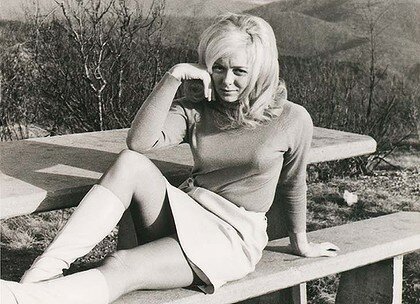 Director: Errol Morris
Cast: Joyce McKinney
Certificate: 15
"Once upon a time there was a beautiful princess…" Thus starts Tabloid, a tale of love, kidnapping, scheming newspapers, silly disguises, an evil cult and magic underwear. It's also a documentary.

Joyce McKinney is a strange but bubbly sixty-something with an outrageous past. A former Wyoming beauty queen, she claims to have been a wholesome young lady. When she moved to Utah, she fell head-over-heels for Kirk, a feeling that (we are told by Joyce) was reciprocated. But there's a catch: Kirk and his family are members of The Church of Jesus Christ of Latter Day Saints. Mormons.

One day, Kirk mysteriously disappears, so Joyce tracks him down to England and, with help, kidnaps him at gunpoint from outside a church. Once "free" from the crazy, yet weirdly likeable, woman, Kirk returns to the Mormons. The two have very different stories about what happened. Joyce says they brainwashed Kirk and that the two of them were going to get married. Kirk and the Mormons say that he was raped and try to charge her with wrongful imprisonment.

Immediately, the UK tabloids pick up the story. Joyce is adored by The Express reporter Peter Tory, who takes her side. But it turns out she's not as innocent as she looks: The Mirror dig up Joyce's hidden past, resulting in a very public media showdown, as the British public lap up the scandalous details.

With frequent and hilarious input from the clearly barking Joyce, nicely edited with contributions from the two opposing journalists, and the strong guiding narration of Errol Morris, Tabloid unfolds with a straightforward pace and a constant stream of surprising revelations. In short, it's one of the funniest and strangest documentaries you will ever see. And that's without mentioning the cloning of her dog.

VERDICT

This should be utter trash, but Tabloid works as a story of how far one person will go for love. A freaky, funny, demented fairytale.

Your rating 
( 1 Vote )
Tags:
cambridge film festival reviews
errol morris
joyce mckinney
tabloid