Star Ratings
| | |
| --- | --- |
| | Amazing |
| | Well good |
| | Fun |
| | Meh |
| | Rubbish |
| | | |
| --- | --- | --- |
| Review: The Change-Up | | |
Written by Daniel Cormack
Thursday, 15 September 2011 13:12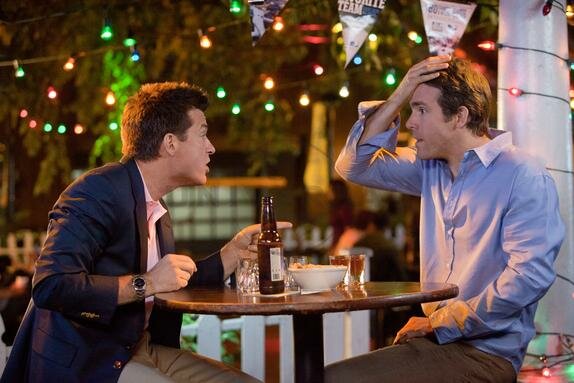 Director: David Dobkin
Cast: Jason Bateman, Ryan Reynolds, Leslie Mann, Olivia Wilde
Certificate: 15
Trailer
With Jason Bateman and Ryan Reynolds swapping bodies in The Change-Up this week, a bright PR spark had the genuinely brilliant idea of playing the old switcheroo with its reviews. And so this week, the body of i-Flicks has been unexpectedly penetrated and rudely possessed by the spirit of Daniel Cormack from Film Juice. Here's his take on the film:
Coming from the writers of The Hangover and the director of Wedding Crashers, The Change-Up has some considerable comic pedigree and also a lot to live up to.
While the 'body-swap' premise is familiar to the point of cliché from movies such as Freaky Friday and Vice Versa, The Change-Up swaggers through its two-hour runtime with some considerable style and milks enough comedy value from a tired genre to make it an entertaining, though hardly life-changing, film.
The lives of childhood buddies Mitch (Reynolds) and Dave (Bateman) have diverged in adulthood, with Dave now a workaholic lawyer, husband and father-of-three and Mitch living the underemployed bachelor lifestyle as an occasional actor in Lorno ('lite' porn). Relieving themselves in a fountain after a drunken night out, both wish they could live each other's lives, but soon discover that the grass isn't always greener on the other side when they wake up the next morning to find that the fountain's statue has used her magical powers to swap their bodies.
Both leads carry this slightly flimsy concept rather well with Reynolds' elastic yet handsome features playing well off the grim austerity of Bateman's crumpled face, etched with the lines of a man who's living the American dream, but secretly dying inside. After initially delighting in the opportunities presented by living another life, reality hits like a steam train when both realise that they will have to perform each other's role at crucial life-changing moments: in Dave's case, his firm's multi-million dollar merger deal and in Mitch's, his big break with a starring role in an erotic movie alongside a silicon-enhanced lady of a certain age.
Fans of Wedding Crashers will not, therefore, be disappointed to discover that director David Dobkin has retained his penchant for using implausibly large and gravity-defying breasts as comic instruments. Indeed, Dobkin has added a rather convincing female pregnancy bump to his repertoire of comic props in his quest to humorously blazon the female form. The film motors through such comic set-pieces at a rip-roaring pace before the usual segue into sober reflection so the characters can learn their life lessons before the audience have emptied their carton of popcorn, fizzy drink and other confectionery.
It seems churlish to say it, but the only criticism in leaving this very enjoyable and also very forgettable movie is the critic's prerogative: that is, to criticize a film for what it isn't, rather than what it is. The characters exist in a world of perma-affluence (despite Reynold's character having little discernible source of income) where every woman – apart from the wretched creature that Mitch/Dave dry humps in the Lorno – has the pneumatic figure and looks of a lingerie model.
VERDICT
Going to see The Change-Up may not boost your income, furnish your house with designer goods or give your wife bigger breasts, but then what did you expect from two hours worth of swanky, yet crass, escapism?

What did you think?
( 1 Vote )
(You can find Ivan's review of The Change-Up at Screen22.)
Tags:
david dobkin
jason bateman
leslie mann
olivia wilde
ryan reynolds
the change-up