Star Ratings
| | |
| --- | --- |
| | Amazing |
| | Well good |
| | Fun |
| | Meh |
| | Rubbish |
| | | |
| --- | --- | --- |
| Bolt | | |
Written by Selina Pearson
Friday, 06 February 2009 11:40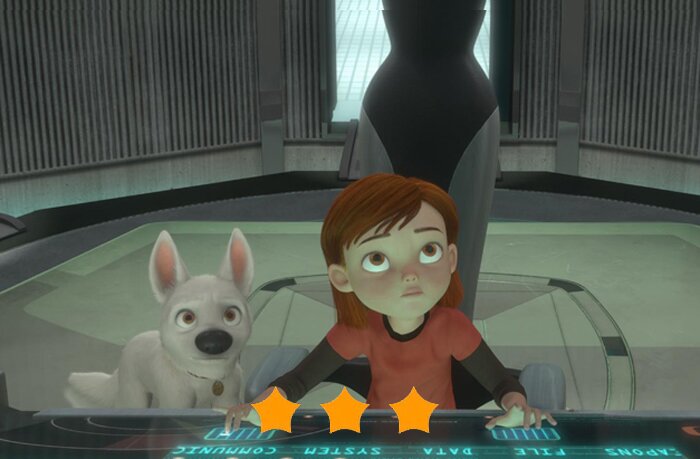 Directors: Byron Howard and Chris Williams
Cast: John Travolta, Miley Cyrus, Malcolm McDowell
Certificate: PG
Do you remember The Truman Show? Bolt is The Truman Show for the High School Musical generation. Bolt (Travolta) and his 'person' Penny (Cyrus) are stars of a TV show where they are trying to rescue Penny's on-screen father from Bond-esque bad guys (with cats), equipped with a motorised scooter. One girl and her dog against supervillains - a bit unfair, don't you think? Well, before being nabbed by the cat-loving criminals, Penny's on-screen father engaged in a bit of home experimentation with his daughter's beloved pet: Bolt has superpowers!
Penny is fully aware that she is an actor. Her canine counterpart is not. The show's producer is of the opinion that the way to keep the dog's reactions 'real' is to make the dog think it's all real - so, Bolt never leaves the set. After filming one episode, a cliffhanger has Bolt believing that Penny has been kidnapped. Desperate to find her, Bolt escapes from his trailer-prison and accidentally gets posted to New York. Once in New York, his superpowers disappear. Bolt believes this to be the result of close contact with packing peanuts, thus Styrofoam becomes his Kryptonite.
Bolt heads back to Hollywood, guided by Mittens, a bitter cat, and a Waffle map of the US. Along the way they pick up Rhino, a telly-addict hamster in a plastic ball. Bolt also discovers what it really means to be a dog and that he doesn't actually have superpowers.
It's a Disney film made during the Pixar void and it shows; while it's cute and lively, it lacks that Pixar spark. Undoubtedly, anyone under the age of 10 will enjoy it very much, but it feels a little derivative - there's Homeward Bound in there, too. It also carries a slightly baffling PG certificate for "mild threat and scary moments". It does, however, have the advantage that it will be shown in 3D in some cinemas.
Oh, and watch out for Malcolm McDowell.
VERDICT
Pixar it ain't, but it is quite fun. Add an extra star if you are under 10 and see it in 3D. Enjoyable, but no Toy Story.