Star Ratings
| | |
| --- | --- |
| | Amazing |
| | Well good |
| | Fun |
| | Meh |
| | Rubbish |
| | | |
| --- | --- | --- |
| Review: One Day | | |
Written by Jo Bromillow
Thursday, 01 September 2011 08:51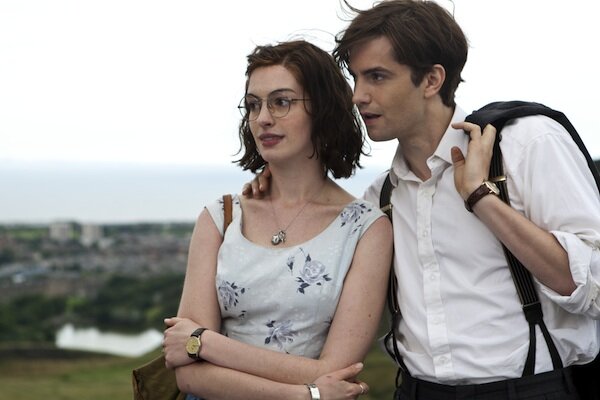 Director: Lone Scherfig
Cast: Jim Sturgess, Anne Hathaway
Certificate: 12A
Acclaimed director meets phenomenally successful writer. Director sees potential in turning writer's literary phenomenon into the most talked-about romance film of the year. Writer joins production team to translate beloved literary baby to the screen.
It's a match made in movie exec heaven and should have been a shoe-in for the biggest release of the summer that didn't feature CGI. But, inevitably, One Day still manages to fall flat on its quaint Anglo-American face.
Devoted fans of the book, who poured over the typically untypical love story of friends Dexter (Sturgess) and Emma (Hathaway) as they spend roughly 20 years falling head over heels for each other, will merrily rip holes in this adaption. Much of the novel's subtleties, set pieces and characterisations have been lost as this gravy train veered from tragicomic portrayal of 90s Britain to cash-cow love story.
Anne Hathaway, who captures Emma's wit and cynicism while wisely leaving aside the character's more annoying prejudices, is little more than window-dressing for what is essentially The Jim Sturgess Story - out of the titular 24 hours, she barely gets more than 30 minutes. Although given that accent, which lurches alarmingly from Geordie to Yorkshire to the clipped consonants of Becoming Jane, it's probably for the best.
Dexter's character arc (from lazily privileged rich kid via washed up celebrity to redemption) is nicely handled by a promising Sturgess, but apart from him, none of the characters have any real presence. Emma's hapless near-miss Ian (a wonderfully awkward Rafe Spall) and Dexter's significant other Sylvie (a sympathetic and, well, nice Romola Garai) barely register, and some of the book's more interesting characters are removed completely to allow for more lingering shots of the central pair accompanied by a dire Rachel Portman score, the soppy, drippy tones of which nicely sum up how drippy and soppy David Nicholls' complex story has now become.
In short, One Day feels flat, rushed, clichéd and a tad boring - all the key signs of Hollywood sinking its manicured nails into a classic. You can almost see the dollar signs whirring in the eyes of the producer who merrily cut the Britishness out of the plot to appeal to a transatlantic audience. But occasional flashes of brilliance - Dexter's scenes with his dying mother deliver impact in a way that the book doesn't - indicate that if An Education's director Lone Scherfig had a little more courage, this really could have been something.
VERDICT 
One Day? I'd give it one hour, and spend the other 23 with the book.

What did you think?
( 0 Votes )
Tags:
an education
anne hathaway
david nicholls
jim sturgess
lone scherfig
one day