Star Ratings
| | |
| --- | --- |
| | Amazing |
| | Well good |
| | Fun |
| | Meh |
| | Rubbish |
| | | |
| --- | --- | --- |
| Review: Rise of the Planet of the Apes | | |
Written by Ivan Radford
Sunday, 07 August 2011 10:42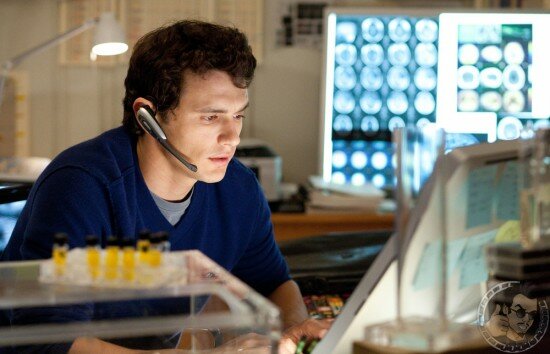 Director: Rupert Wyatt
Cast: James Franco, Andy Serkis, John Lithgow, David Oyelowo
Certificate: 12A
Trailer
Blimey. Go back a few weeks and we were all making jokes about Deep Blue Sea. But Rise of the Planet of the Apes is even better than that. It's Deep Blue Sea, but with actual characters instead of sharks - if by characters, you mean apes. And boy, do those apes know how to rise. Bridges! Crayons! Horses! Helicopters! There's nothing they won't rise against. 
It all starts off with scientist Will (Franco) testing his magic drug on chimps. Naughty Will. He's about to cure Alzheimer's, if his boss (Oyelowo) will let him test his drug on humans. But after a drugged-up, angry ape rises against a board room window, Franco ends up stuck at home raising a baby chimp by himself.
What follows is an hour of slow-paced human-ape bonding, and those 60 minutes turn Rise of the Planet of the Apes from a big, hairy blockbuster into a superb, small-scale drama. Will walks his ape through the park, takes him to the zoo, and occasionally tells him off for assaulting the neighbours. The moving second act is almost like watching a documentary - the similarity with Project Nim is a testament to how much director Rupert Wyatt gets right (someone give that man a banana).
What's impressive is just how real Andy Serkis' mo-cap chimp, Caesar, feels. Expertly animated, he's the most engaging thing in the movie. It's a wonder we don't use CGI apes more often. Apes could replace Matthew McConaughey in rom-coms, or be used as a digital substitute for Roger Moore in James Bond films. The possibilities are endless.
And yet we still feel sympathy for the humans, even as Caesar's life is torn to shreds. David Oyelowo's brilliant villain is fun to dislike, and Brian Cox and Tom Felton are just plain evil, but Franco's concern for his suffering father (Lithgow) keeps us hooked. It's a shame that Freida Pinto's love interest is so unnecessary, but it's not her fault: the real romance here is between Franco and his furry best friend. A man and a CGI animal in a meaningful relationship? It throws chimp faeces all over Mr Popper's Penguins.
By the time the final act explodes, Rise of the Planet of the Apes is so character-driven that you forget the effects are even there (surely the dream for all blockbusters). Best of all, Wyatt delivers on the promise of chimpanzee carnage. The apeocalypse arrives and because it works emotionally, it's some of the most satisfying action you'll see all year. Yes, there are cheesy moments, from the traditional hammy dialogue to Caesar's growling vocals, but honestly? You had me at gorilla vs helicopter.
VERDICT
Paws down, the best blockbuster of the year. Apesolutely brilliant.

What did you think?
( 1 Vote )
Tags:
andy serkis
brian cox
david oyelowo
freida pinto
james franco
mo-cap
rise of the apes
rise of the planet of the apes
rupert wyatt