Star Ratings
| | |
| --- | --- |
| | Amazing |
| | Well good |
| | Fun |
| | Meh |
| | Rubbish |
| | | |
| --- | --- | --- |
| Review: Mr Popper's Penguins | | |
Written by Ivan Radford
Wednesday, 03 August 2011 08:55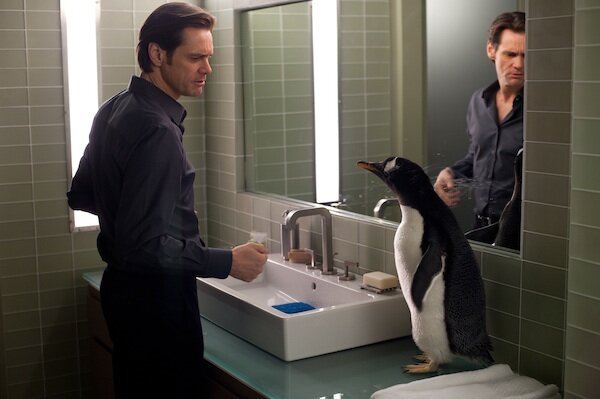 Director: Mark Waters
Cast: Jim Carrey, Carla Gugino, Ophelia Lovibond
Certificate: PG
Trailer
Mr Popper's Penguins has a pretty plain premise. Position Jim Carrey proximate to a pack of pixellated penguins and prepare for pleasantries to proceed.
At the opening, Mr Popper is a profit-obsessed property purchaser, pleased to put aside his offspring if it promotes his position in the company partnership.
Preparing his packed program is personal assistant Pippi (Lovibond). A perky presence in this plotless production, her purpose is to pronounce all of her parlance with the plosive 'P'. A pleasant prank, and one of the picture's positive parts - plus the penguins.
A perfectly presented pile of pixels, Mr Popper's eponymous pets are appealing - in point of fact, Carrey's possession of the South Pole bipeds appears to be the primary provocation of re-perked passion from his separated offspring and spouse (the pretty Carla Gugino). Mr Popper's playbook professes their rapport to be purely impulsive, but it's problematic to perceive any proper poignancy.
The project perambulates along, piecing together spurious subplots in pursuit of prolonging its premise. Pre-pubescent patrons will applaud the parade of pratfalls and Carrey's pantomime performance, but Mr Popper's Penguins is an unplanned piece of patchwork plotting. The principal portion, predating the penguins' postal reception, is pleasing (especially Jeffrey Tambor's appearance), but Angela Lansbury's pensioner? Clark Gregg's pernicious penguin-snatcher? The pair are completely out of place. 
It purports to pertain to parental philoprogenitiveness, but Mr. Popper's Penguins presents precisely the opposite. Does Mr Popper grasp how to perform as a parent? Or simply pick up the proficiency to pamper some poultry? It peaks with a protracted period of computerised pictures, which repudiate any pretence of profound passion. A preferable proposition for Mr Carrey? P-p-p-p-put down the penguins.
VERDICT
For preteens, it's passably pleasant, but Mr. Popper's Penguins is positively pointless.

Present your opinion:
( 1 Vote )
Tags:
angela lansbury
carla gugino
clark gregg
jeffrey tambor
jim carrey
mark waters
mr poppers penguins
ophelia lovibond