Star Ratings
| | |
| --- | --- |
| | Amazing |
| | Well good |
| | Fun |
| | Meh |
| | Rubbish |
| | | |
| --- | --- | --- |
| Review: Horrible Bosses | | |
Written by Ivan Radford
Monday, 18 July 2011 12:31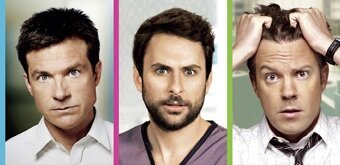 Director: Seth Gordon
Cast: Jason Bateman, Kevin Spacey, Jason Sudekis, Charlie Day, Jennifer Aniston, Colin Farrell
Certificate: 15
Trailer
It's impossible not to like Jason Bateman. Whether he's hunting down aliens or tolerating a family of idiots, or even plotting to murder his boss, he's a likeable guy. It helps, of course, that his evil employer is played by Kevin Spacey. Would you pay to see Jason Bateman kill someone? Yes. Would you pay to see Jason Bateman kill Kevin Spacey? Shut up and pass the pipe wrench.

It's not just Nick (Bateman) who hates his boss. Dale (Day) is being sexually harassed by his boss, Julia (Aniston). She's apparently horrible too. Kurt (Sudeikis), on the other hand, really likes working for his boss, Donald Sutherland. Until Donald dies, passing the company to his coke-snorting son, Bobby (Farrell). He's really horrible. Plus he has bad hair.
Combined, the sheer horribleness of these horrible bosses make the trio of friends decide to take the ultimate horrible step and kill their bosses. Horribly.
It's a decent premise, and one that opens up the chance for some seriously black humour. But Michael Markowitz, John Francis Daley and Jonathan Goldstein's script resist that route, instead running on the crude buddy comedy rails into Toilet Humour Town, Sex-ville. It's a shame, especially as the cast has such potential - Jennifer Aniston is actually good as a sex-crazed psycho, displaying raunchy comic timing ("Let's have sex on her unconscious body! Let's use her like a bed!") as well as her other, ahem, talents. 
The rest of the actors are mostly on form, from Charlie Day's shrieking idiot to Colin Farrell's combover-sporting asshole (who gets about 15 minutes of screen time). But Jason Sudeikis just walks in straight off the set of Hall Pass, playing the token ladies man (apparently bedding every woman he meets doesn't class him as a sex-crazed psycho, but makes him some sort of hero).
With Sudeikis demanding no sympathy and Charlie Day's hysterics becoming slightly one-note, the show is inevitably stolen by Kevin Spacey. He's currently strutting his Swimming with Sharks persona as the Old Vic's Richard III. Remember him? The king who killed his brother and nephews to steal the throne and tried to marry his niece? Spacey's boss didn't give Nick the promotion he wanted, easily making him more horrible than Shakespeare's hunchbacked Machiavelli. And Spacey's loving it. Even the lines on his face are evil.
Together with Bateman's deadpan presence, Spacey's ball-crushing villain keeps the chaos on an even keel. Some amusing subplots are actually pointless (hello to Jamie Foxx's murder consultant, Motherfucker Jones) but Horrible Bosses manages to keep the guffaws consistent. There's no depth to keep you hooked when you're not laughing, but it's impossible not to like the film. After all, Jason Bateman's in it. Now hurry up and pass him that wrench.
VERDICT
Murder most fun. 

What did you think?
( 1 Vote )