Star Ratings
| | |
| --- | --- |
| | Amazing |
| | Well good |
| | Fun |
| | Meh |
| | Rubbish |
| | | |
| --- | --- | --- |
| Review: Super | | |
Written by Ivan Radford
Monday, 04 July 2011 10:04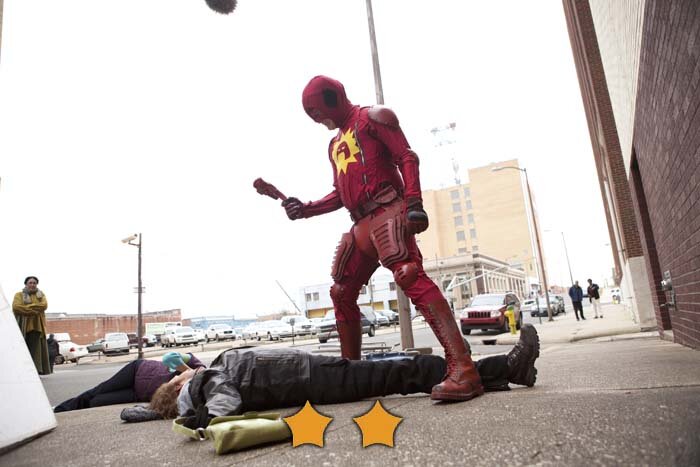 Director: James Gunn
Cast: Rainn Wilson, Ellen Page, Kevin Bacon, Liv Tyler
Certificate: 18
Trailer
"I've always wondered why nobody tried to be a superhero before," says one of Super's characters halfway through the film. It may have been written years ago, but James Gunn's superhero flick unfortunately suffers from the fact that Kick-Ass got here first. And the fact that it's a mess.

Frank (Wilson) is a disturbed man. Lucky enough to land recovering drug addict Sarah (Tyler) for a wife, he's distraught when she ups and leaves him for skeezy pimp Jacques (a well-cast Kevin Bacon). So Frank does what anyone would: he picks up a pipe wrench and starts bashing people's faces in. 
For the first half of the film, Frank's brand of bloody justice is amusing. Running around shouting "SHUT UP, CRIME!" with his trusty wrench in hand, he warns bad men not to deal drugs or touch children. But then he starts caving in a guy's head because he jumped in line at the cinema, and things take an uneasy lurch into sociopathic territory.
This is the problem with Super. Its tone is all over the place, unable to work out if it's a dark comedy, a superhero satire or a low-budget drama. Shoving words like "BANG!" and "BOMBS!" over the action looks good, but even that's inconsistent. For the rest of the film, things stay realistic with brutal violence, gun shot wounds and dead cops, but we never see any repercussions for Frank's actions.
Introducing the wasted Nathan Fillion as Bible-wielding TV character, The Holy Avenger, Gunn's script sees Frank inspired by the Christian costumed vigilante to do the right thing and defeat evil, specifically in the form of his wife's new fella. With his whacked out messianic hallucinations, is his motivation emotional, spiritual or psychological? The answer, it seems, is all of them. Freud would have a field day. Presuming Frank hadn't already beaten him to death with a spanner.
His sidekick, Libby (Page), is equally confused. Thrilled at the thought of donning yellow tights and kicking the crap out of others, Page gives a demented performance but is little more than a bloodthirsty nutjob. Even if you can accept her as that, it doesn't explain a horribly misjudged sex scene halfway through, which almost borders on rape. It's an unsettling scene that doesn't belong anywhere near this movie.  
By the end, it's impossible to identify with Frank. Despite Wilson's comic timing, Frank's not a likeable guy, even though Gunn tries to present his violent outbursts as somehow helping him improve as a person. Sitting in his bedroom with pretty crayon drawings stuck on the wall, Super seems to condone Frank's actions, but while Kick-Ass celebrated comic books with an emotionally engaging cast of misfits, Super's ironic distance and uneven tone stops us fully embracing its characters. 
There are great ideas here, like Frank sitting behind a dumpster waiting for crime to happen. "That's what they do between the panels," he explains to Libby. But there's no depth or warmth to any of it. Subversion is a form of comedy, but this is subverting a genre just for the sake of subversion. You don't feel elated or entertained, you feel awkward and uncomfortable. Maybe that's the intention, but if Super succeeds at that, it doesn't succeed as a movie. 
VERDICT
Visually impressive but morally dubious, Super is unpleasant stuff.
What did you think?
( 1 Vote )
Tags:
james gunn
kevin bacon
kick-ass
liv tyler
rainn wilson
super