Star Ratings
| | |
| --- | --- |
| | Amazing |
| | Well good |
| | Fun |
| | Meh |
| | Rubbish |
| | | |
| --- | --- | --- |
| Review: Last Night | | |
Written by Ivan Radford
Wednesday, 01 June 2011 12:45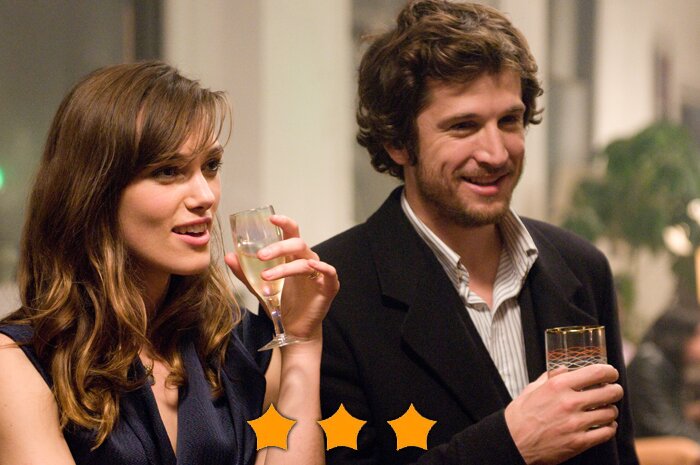 Director: Massy Tadjedin
Cast: Keira Knightley, Sam Worthington, Guillaume Canet, Eva Mendes
Certificate: 15
What happens after the happily ever after? Can you trust someone to trust you? How many facial expressions does Sam Worthington have? Last Night asks all of these questions. It doesn't answer them. Oh no. That would be too easy for a film about the messiness of love and life. Instead, people lay about in each other's beds debating whether to have sex. And then it's over. Just like that.

The morning after, you'll be thinking: Last Night with Keira Knightley was incredible, and sexy as hell. Last Night with Sam Worthington was rubbish.

Michael (Worthington) and Joanna (Knightley) are a married couple in New York living the magazine life. Their flat is gorgeous, their hair is perfect, even their pristine kitchen is arousing. But on an evening out, Joanna meets Laura (Mendes), Michael's attractive work colleague. She promptly accuses him of cheating. His response? To go on a business trip with Laura and get drunk with her in the hotel.

Not that Joanna is completely innocent. While Michael's making moves on Eva Mendes, Keira bumps into her old flame, Alex (Canet). As they rekindle their flirty relationship, Massy Tadjedin teases us with tales of desire and betrayal. She gets it half right.

The problem is her need to focus on both couples. Cutting back and forth between the two temptations, the first-time director gives everything an impressively glossy finish, but there's no real penetration to speak of. 

Keira and Canet steam up the screen with a chemistry that really sizzles. Sam, on the other hand, keeps firing blanks. He barely raises a response from his own face, with its one vacant expression, let alone anything else. When Eva Mendes takes off her clothes, he has to jump in a swimming pool to create any kind of sexual tension. And even then he just produces a damp, floppy mess.

Without Sam's soggy escapades, Last Night could really generate some heat. Keira's glaring silences, awkward arguments and fleeting touches are superbly natural, while Tell No One's director Guillaume Canet is a total sex pot, full of talent, charm and twinkly eyes. One interrogation scene over dinner with Alex's friends is a stand-out demonstration of how well the duo gel.

A film about their evening could have stood up within Before Sunrise territory. But the script insists on something bigger and more complex. It wants to be Brief Encounter, with more encounters and even more briefs. At one point it apes Patrick Marber's Closer with a shot of Keira walking along a crowded New York street in slow motion. But as wonderful as Knightley is, Last Night is extinguished by Worthington's bedroom performance. She's acting in a provocative piece about loyalty and lust. He's in Brief Encounter 2: Laid in Manhattan.

VERDICT

Last Night with Keira Knightley is 45 minutes of unbridled passion. Last Night with Sam Worthington is a limp disappointment.
What did you think?
( 1 Vote )
Tags:
brief encounter
closer
eva mendes
guillaume canet
keira knightley
last night
massy tadjedin
patrick marber
sam worthington