Star Ratings
| | |
| --- | --- |
| | Amazing |
| | Well good |
| | Fun |
| | Meh |
| | Rubbish |
| | | |
| --- | --- | --- |
| Review: The Hangover Part II | | |
Written by Ivan Radford
Thursday, 26 May 2011 12:01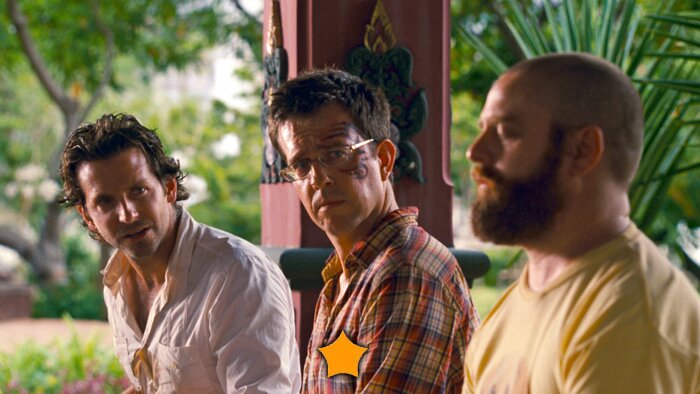 Director: Todd Phillips
Cast: Ed Helms, Zach Galifianakis, Bradley Cooper
Certificate: 15
Trailers
Two years ago, the world blacked out and woke up in a popcorn-covered cinema. They couldn't remember what they saw, but they knew that it was very, very funny. That and something about holocaust rings. So The Hangover crew is back for one more night of debauched misadventures. "I can't believe it's happening again..." moan the cast as they awake bleary-eyed in Bangkok. They're not the only ones.

The sequel was, of course, inevitable, as is the meaningless title. Is it part of the same hangover as last time? No, but it's pretty much identical. From the monkey to the missing person to the token prostitute, The Hangover Part II is a remake of the first film - without the jokes. 

But that doesn't matter. Because we're in Bangkok. Yeah, Bangkok, baby. The land of rape and ladyboys - often both at the same time. (No-one seems to have told Todd Phillips that ladyboys were only funny in Alan Partridge back in 1997.)

After 15 boring minutes spent reminiscing about the last Hangover, dentist Stu (Helms) goes to Thailand to get married. Naturally, he invites Bradley Cooper and Zach Galifianakis (let's not pretend they have characters) and their other best friend from the first film, who doesn't even have a function, let alone a name. The night before the nuptials, the group go down to the beach for one drink. You know what happens from there.

And that's the main problem. Nothing is unexpected, because it's all written out line by line from The Hangover's original script. Todd Phillips tries to make things bigger and ruder, but it's just more offensive. One piece of wordplay on the city's name makes Hall Pass look like an Oscar Wilde satire, while the drunken antics simply aren't funny anymore. Zach got his hair shaved off? Oh no. Stu got a tattoo? How wacky.

And then the loud, camp Chinese guy from the first film turns up, even louder, camper and more annoying. Squealing meaningless phrases like "Holler! It's the city of squalor!" he squeezes in the odd insult ("Use your big Jewish brain!") before introducing Paul Giamatti's pointless cameo. It's hard to believe that Mel Gibson was considered too racist to be in this film. 

The humour itself is mean and crude, with Bradley Cooper somehow transformed from an arrogant playboy to a sweary sociopath. Ed Helms, meanwhile, spends the 100 minutes constantly screaming. And The Hangover's secret weapon, Zach Galifianakis, has barely any outlandish one-liners. There's one good moment ("I wish monkeys could Skype"), but by the time the animal's near-dead on a pavement, it's clearly had a lucky escape. 

It's not often a film gives a monkey more screen time than the protagonist's wife, but that's nothing new either. Relegated to cheering her fiancee's return without doubts or questions, Stu's bride is as irrelevant as her lost brother, Plot Device. And when Mr Device turns up having missed 90% of the film, you'll just wish you could have taken his place. At least so you could avoid the bit where Mike Tyson turns up. Again.

VERDICT

Read a book. Get stuck in a lift. Contract syphilis. Shoot yourself in the face with a vegetable. Any of these would be better than watching The Hangover Part II.
What did you think?
( 4 Votes )
Tags:
bradley cooper
ed helms
hangover 2 mike tyson
the hangover part ii
todd phillips
zach galifianakis