Star Ratings
| | |
| --- | --- |
| | Amazing |
| | Well good |
| | Fun |
| | Meh |
| | Rubbish |
| | | |
| --- | --- | --- |
| Review: The Way | | |
Written by Ivan Radford
Wednesday, 11 May 2011 12:37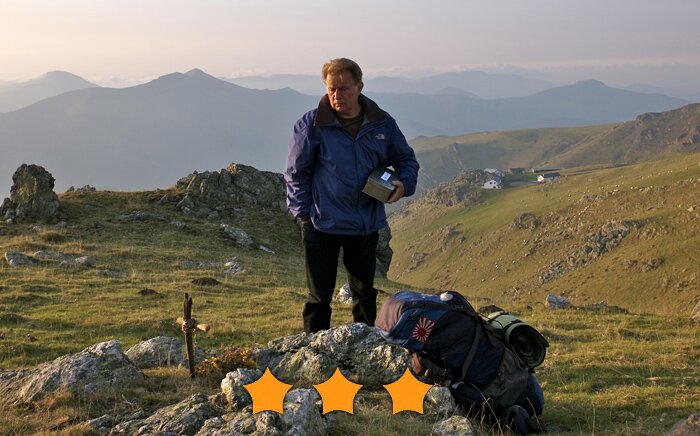 Director: Emilio Estevez
Cast: Martin Sheen, Emilio Estevez, Deborah Kara Unger, Yorick van Wageningen, James Nesbitt
Certificate: 12A
Trailer/Clips
Tom (Sheen) is an eye doctor, but he doesn't see his son Daniel (Estevez) very much at all. So when Daniel passes away while walking The Camino de Santiago pilgrimage route in Spain, Tom decides to continue the walk carrying his son's remains. Don't worry: it's not as heavy going as it sounds. He had him cremated.

Fans of literal and metaphorical voyages of self-discovery will be pleased to learn that Tom's trek up the side of Spain introduces him to other people with problems. There's drug aficionado Joost (van Wageningen) from Amsterdam. He's fat. Then there's chain-smoking Canadian Sarah (Kara Unger). She's angry at the world. And finally frustrated writer Jack (Nesbitt). He's Irish.

But while such a motley group of cliches can get tired, writer-director Estevez stops his script stagnating with some gorgeous locations and well-photographed landscapes. He conveys the exhilaration of travel with a studied eye and a talented cast. Yes, they're all learning about themselves and each other, but their lessons are surprisingly un-preachy. Even if they do spend most of the time listening to Athlete and Coldplay.

At the middle of it all, Martin Sheen's quiet presence holds things together. It's just a shame he's dogged by unnecessary flashbacks and hallucinations of his dead son - there's nothing quite as off-putting as a guy in a bright orange coat popping up when you're trying to admire the hydrangeas.

Still, this is a moving examination of loss if you can handle its marathon length of 2 hours and 10 minutes. The actors keep the journey from rambling too far down its side paths. You'll just wish they ran most of the way.

VERDICT

An emotional trip down a road well travelled. The Way is touching, but equally long and winding.
What did you think?
( 1 Vote )
Tags:
camino de santiago
deborah kara unger
emilio estevez
james nesbitt
joaquim de almeida
martin sheen
the way
yorick van wageningen