Star Ratings
| | |
| --- | --- |
| | Amazing |
| | Well good |
| | Fun |
| | Meh |
| | Rubbish |
| | | |
| --- | --- | --- |
| Review: Thor | | |
Written by Ivan Radford
Monday, 25 April 2011 08:30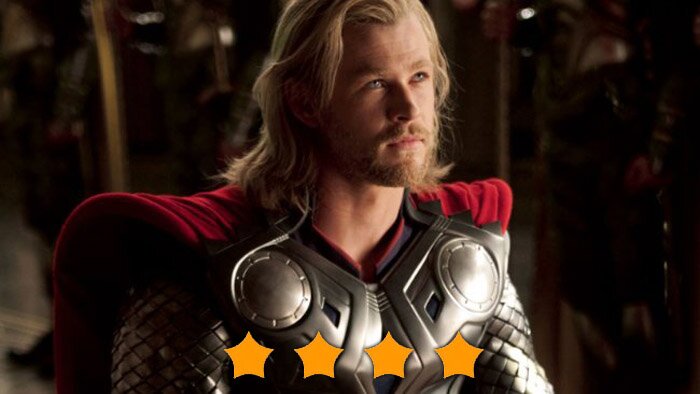 Director: Kenneth Branagh
Cast: Chris Hemsworth, Natalie Portman, Tom Hiddleston, Anthony Hopkins, Kat Dennings
Certificate: 12A
Trailer
A big blonde guy with a massive hammer? Yep, that's Thor (Hemsworth), a hunky cape-wearing fellow known to most people as the Norse God of Thunder. This is the Marvel version of the myth, complete with a one-eyed Anthony Hopkins and a whole bunch of adverts for The Avengers. But forget Marvel's upcoming superhero slate: Thor is a thundering success on its own.

Life is sweet in Asgard. The buildings are made of shiny gold, the bridges are made of rainbows, and people wear silly helmets – it's everything you could want from a Queen music video and more. And Thor, the son of Odin (Hopkins), can't wait to rule it.

Thor's impatience means it doesn't take much for sneaky sibling Loki (an excellent Tom Hiddleston) to trick him into declaring war upon their ice-bound enemy realm. But Odin is none too happy about Thor's reckless violence. Quicker than you can say "Frost Giants of Jotunheim", Thor gets kicked out of Asgard and exiled on Earth.

Exposition was always going to be a problem here, but director Kenneth Branagh covers the epic fantasy backstory in a lightning-fast 10 minutes: a sweeping, impressive sequence that introduces the key players and gives them a chance to kick butt, Nordic style. Then, before the sparkly bits get too much, we drop down to New Mexico with a bump.

Stripped of Mjolnir's powers, Thor is one sexy fish out of water. He walks into pet shops demanding horses and throws mugs of tea at unsuspecting cafeteria staff. It's not all bad though: he gets to eat Pop Tarts. And he meets eager astrophysicist Jane (Portman) and her sexy sidekick Darcy (Dennings). Stellan Skarsgard's there as well. He's the ugly one of the group.

As Jane and Thor shape up for some hammer time (ahem - the hammer is his penis), Asgard sinks further into disarray. It's not easy to blend the family feuds of a big city up in the sky with the science-based world of Tony Stark, but Branagh manages it in four simple words: GIANT FIRE BREATHING ROBOT. 

The action is solid summer movie stuff and Hemsworth sells the romance and battles with his emotional acting - and muscles that are almost as massive as his haircut. Despite the amount of time he spends in a tight t-shirt getting soaked by the rain, Hemsworth stops it turning into the Thor Diet Coke advert it could have been. Portman, meanwhile, stands around making up sciencey words, offering an engaging foil for his pompous presence.

The effects are stellar too; the 3D conversion is unnoticeable, but Bo Welch's staggering production design ensures the swirling galaxies of Asgard are awesome on the eyes. And Kenneth Branagh uses so much Dutch tilt that you get a dynamic sense of scale anyway. Either that or he's been at the Asgardian mead.

But the key element of Thor's success is its sense of humour. Well aware of its own preposterous story, the film avoids the camp of Flash Gordon with some well-placed laughs. Loki's hokey motives get a bit confused halfway through, but you'll be enjoying it all way too much to care. A character-driven comedy blockbuster? Thor is the most fun you'll have with a comic book movie since Iron Man.

VERDICT

Great Odin's raven, what a movie!
What did you think?
( 1 Vote )
Tags:
anthony hopkins
avengers assemble
chris hemsworth
comic book
kat dennings
natalie portman
stellan skarsgard
the avengers
thor
tom hiddleston