Star Ratings
| | |
| --- | --- |
| | Amazing |
| | Well good |
| | Fun |
| | Meh |
| | Rubbish |
| | | |
| --- | --- | --- |
| Review: Hop | | |
Written by Ivan Radford
Tuesday, 29 March 2011 13:20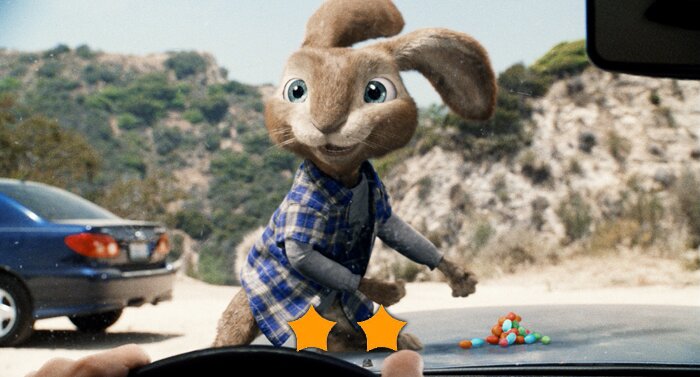 Director: Tim Hill
Cast: James Marsden, Russell Brand, Hugh Laurie
Certificate: U
Trailer
It's Easter, you're making a kids movie, so why not make a movie about the Easter Bunny? Even better, steal the plot from The Santa Clause and shove in bunny in that. A rabbit who flies around the world one night a year delivering eggs? It's the perfect recipe for success. Oh yes, Hop is clearly aiming for a bumper basket of Cadbury goodness. It winds up closer to Hershey's chocolate.
EB (Brand) doesn't want to be the Easter Bunny. Like all little rabbits, he wants to be a drummer, and Breakaway from the expectations of his disappointed father (Hugh Laurie). Fortunately for him, slacker Fred (Marsden) is going through a life crisis all of his own, making him the perfect human for EB to hook up with. Especially after Fred hits him with a car. So far, it's as predictable as a Mars Bar.
But for all its tasty promise as a manly fusion of Fruit & Nut, Hop crumbles like a Flake. Yes, the bunny animation is more solid than a Yorkie and Marsden's always a likeable guy, but there are empty holes where the laughs should be. And when it comes to chocolate, no-one likes holes - just try eating an Aero.
Ok, there are some solid bits of Crunchie gold inside: the music's decent (you'll never see a better CGI rabbit drummer in your life) and it all flies by at a fair pace, but Hop's innards are mostly a gooey mess. Probably because they shoved David Hasselhoff in the middle of it. As pretty as the sugary world of EB's Willy Wonka-like factory is, the script is all over the place.
Hopping from ruined job interviews to killer bunny assassins, the story is a total Curly Wurly. Alvin and the Chipmunks director Tim Hill tries to keep the pieces together, but it's such a mixed bag of Revels that he can't avoid the yucky coffee-flavoured ones. It all climaxes with a set piece involving an evil second-in-command chicken called Carlos. Yes, a movie about the Easter Bunny is actually closer to Angry Birds than a Kinder Surprise. Unless it's a Kinder Surprise full of rubbish.
VERDICT
A glass and a half empty production. When it comes to chocolatey goodness, Hop is less art, more Kraft.
Your rating
( 1 Vote )
Tags:
alvin and the chipmunks
david hasselhoff
extended chocolate metaphor
hop
hugh laurie
james marsden
russell brand
tim hill