Star Ratings
| | |
| --- | --- |
| | Amazing |
| | Well good |
| | Fun |
| | Meh |
| | Rubbish |
| | | |
| --- | --- | --- |
| The Rite | | |
Written by Ivan Radford
Tuesday, 22 February 2011 13:16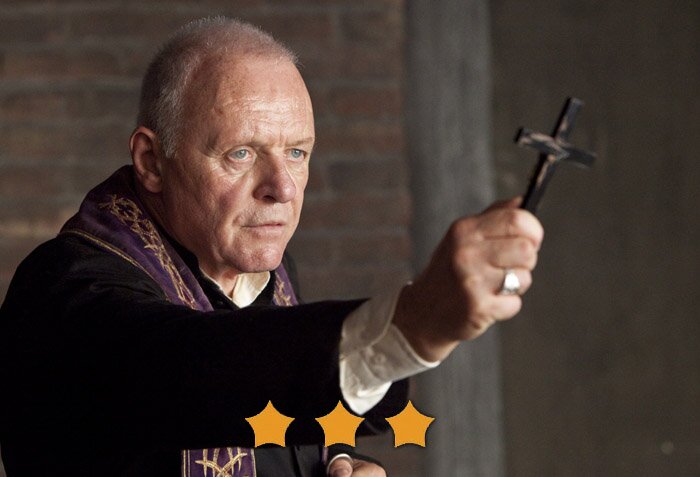 Director: Mikael Hafstrom
Cast: Anthony Hopkins, Colin O'Donoghue, Rutger Hauer, Ciaran Hinds, Alice Braga
Certificate: 15
Trailer/Clips
Once upon a time, there was a boy named Michael Kovak (O'Donoghue) who was a little too fond of dead people. Raised by Rutger Hauer, taught by Toby Jones and guided by Ciaran Hinds, Michael was always destined for a sinister, gloomy future. And that's exactly what he gets in Mikael Hafstrom's dimly lit B-Movie, which is as based on a true story as it is an advert for The Vatican's new exorcism course. 

Sent to Rome to study under Anthony Hopkins, Michael hopes to learn from the experienced Father Lucas and become less messed up in the head. Think Skywalker and Yoda - but with more demonic possession.

The training subject for young Kovak is Rosaria (the pale-faced Marta Gastini). Poor little Rosaria's eggo is preggo but the devil's in her vessel, so she starts saying naughty things, writhing about on the floor and coughing up nails; all the standard stuff you need for a healthy exorcism.

Filling the scenery with stray cats and thundering rain, everyone takes everything very seriously, which just about works - until it all descends into stupidity. You can spot the stupidity because it looks an awful lot like an donkey with red eyes. It's just a shame it isn't this deadly donkey. It doesn't even say "Chaos Reigns".

Throughout it all, Sir Anthony Hopkins chews up the scenery like a mad man. Which is convenient, given that the film requires him to spend half the time showing off his range of silly voices, bodily contortions and at least five different types of contact lenses. At one point he hits a child. At other times, he wears a hat. It's a masterclass in ham.

Of course, nothing can save Father Hopkins from the hokey script but he's clearly enjoying himself and the contrived ending arrives quickly enough. Plus the location of Rome works well on screen and newbie Colin O'Donogue's doubting priest is good at waiting around for The Really Loud Music to kick in - the soundtrack gives several cheap jumps along the way, officially making The Rite honkingly daft fun. With an emphasis on the honk. 

VERDICT

Not as wronge as you'd expect, but still as obvious as that terrible pun.
Your rating
( 1 Vote )
Tags:
alice braga
anthony hopkins
ciaran hinds
marta gastini
mikael hafstrom
rutger hauer
the exorcist
the rite