Star Ratings
| | |
| --- | --- |
| | Amazing |
| | Well good |
| | Fun |
| | Meh |
| | Rubbish |
| | | |
| --- | --- | --- |
| No Strings Attached | | |
Written by Ivan Radford
Wednesday, 23 February 2011 13:14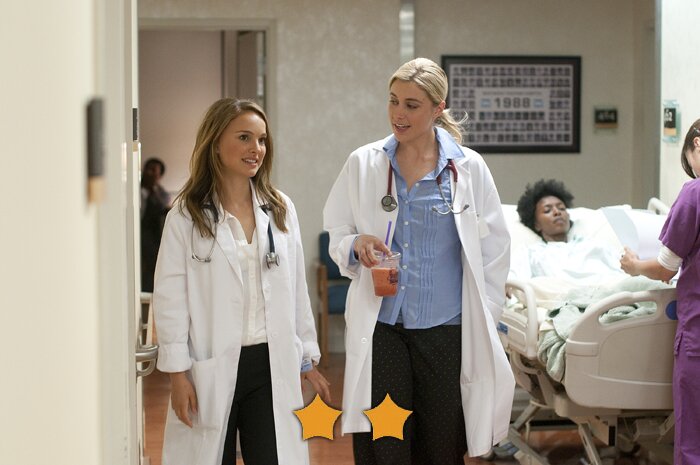 Director: Ivan Reitman
Cast: Natalie Portman, Ashton Kutcher, Greta Gerwig, Kevin Kline
Certificate: 15
It's the same every year. You go to the Oscars, you wear a pretty dress, you make some new friends and eat a massive Oscar dinner. Fatty cakes, protein-heavy canapes, rich desserts, tons of champagne - you quaff the lot. By the end of it all, you return home woozy and bloated before taking a trip to the toilet. Then you take a massive, horrible dump. This is No Strings Attached: the proverbial post-Oscar crap.

Poor old Natalie Portman. Stuck in a rom-com with Ashton Kutcher. She pratfalls, trash-talks and bites her lip as best she can, but this is a long way from Black Swan. It's not even Star Wars Episode III.

Emma (Portman) is a hard-working doctor with no time for things like emotions or relationships. Which is why her and Adam (Kutcher) are sex buddies. For some unknown reason, we first see them when they are both 15 years old. After a brief bit of awkward conversation, one offers to finger the other. The crude humour continues from there – just in case kids who look a bit like Ashton Kutcher and Natalie Portman offering to finger each other wasn't hilarious enough on its own.

Elizabeth Meriwether's screenplay is presented as some kind of revolutionary spin on relationships by focusing on two commitment phobes. Of course, after an hour of having sex, talking about sex and talking while having sex, they both decide they want something more. Like a proper film. Or some kind of plot. Instead, director Ivan Reitman shoehorns them into a conventional ending, complete with soppy making up (and lots of making out). After all, who wants something original when you can just watch people swearing for almost two hours? Going the Distance managed to be crass without shelving its characters - there's really no excuse.

Maybe there are two Ivan Reitmans. One who directed Ghostbusters and Kindergarten Cop, and his evil twin, who made My Super Ex-Girlfriend and this. Ok, so there are a couple of amusing moments, from a timely period mix tape to a healthy alternative to a bunch of flowers, but when you're relying on a gay bald guy and a wisecracking black guy to be the comic sidekicks, you're pretty much out of ideas.

Thank goodness, then, that Kevin Kline shows up as Ashton Kutcher's lecherous dad. He plays the piano, he beds younger women, he wears orange jumpers – he's the only good thing about this bland turd of a film. Except for the amazing Greta Gerwig, who's wasted in her supporting role. They get each of the two stars on offer.

VERDICT

No Strings Attached is a rom-com without romance or comedy. It's so unmemorable that not even Kevin Kline's orange jumpers can save it.
Your rating
( 1 Vote )
Tags:
ashton kutcher
elizabeth meriwether
going the distance
greta gerwig
ivan reitman
kevin kline
my super ex girlfriend
natalie portman
no strings attached